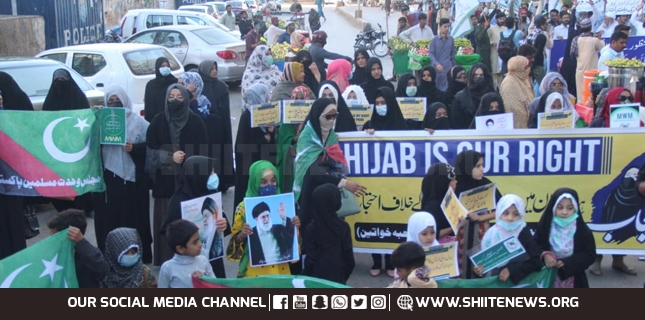 Shiite News: The MWM Karachi Division, Women Wing held a protest at KCP in favor of Hijab. On this occasion Sisters Banin, Shazia Imam, Maulana Sadiq Jafferi said that Modi and Company has kept the foundation stone of new division of India. Skyscraper slogans of Muskan Khan are still echoing in entire environment of the World, which are sufficient to expose prejudice of so-called secular and human rights champion State i.e India.
Women speakers of the made it clear that veiling or hijab is not our fashion but religious duty. A State which claims to be world largest democracy is frightened of only one meter cloth to cover head, how it can give rights to other minorities. They added that the attitude of Indian rulers towards all minority is not hidden with the world.
They further said that all religions including Hinduism don't allow their women to be unveiled, Hinduism is proud of Chastity of Sita (wife of Rama), Christian sisters follow Hazrat Maryam (AS) to be a nun. Hijab is important all respectable faiths.
They warned India to change its ways which is leading it towards another division in recent century.