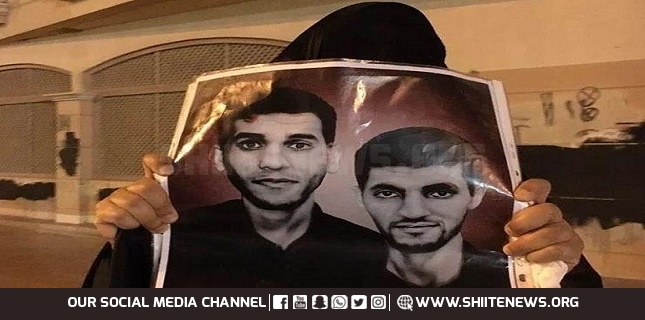 Tuesday, the Saudi Arabia Court of Appeal ratified the death sentence of 2 Bahraini young men, Jaafar Sultan and Sadiq Thamer.
After Riyadh's decision, demonstrations took place in Dar Kulaib, a Bahraini village, rejecting "Saudi's unjust execution against the people of the village."
The 2 young men, from Dar Kulaib, were arrested on May 8, 2015, on King Fahd Causeway. Later, the Saudi authorities charged them with "preparing to blow up the bridge linking to Bahrain," but they refuted these claims and slammed these claims as politically motivated.
After the court's ruling, the defendants can appeal the ruling before the Saudi Supreme Court within a maximum one-month period of time. The Saudi Supreme Court is the highest court in Saudi Arabia and its decisions are ultimate.
Death sentences are not carried out except with the approval of the Saudi King, after which the sentences are confirmed by the Supreme Court.
Sultan and Thamer denied the charges against them and considered them politically motivated, knowing that human rights organizations have documented that they were tortured by Saudi security forces to extract confessions during their arrest.
Human Rights Watch (HRW) earlier demanded the release of opposition activists detained in Bahrain. On the occasion of Bahrain's National Day, the HRW asked, "Did you know that Bahrain has one of the highest rates of imprisonment per capita in the Middle East?"
Saudi Arabia's torture records
According to Human Rights Watch, Saudi women's rights activists and others detained in 2018 were subjected to electric shocks, beatings, whippings, and sexual harassment.
Text messages were obtained by HRW which were sent in January 2021 from a person who introduced himself as a Saudi prison guard, depicting descriptions of torture and ill-treatment against the prisoners, especially high-profile detainees. Saudi interrogators, witnessed by prison guards, committed human rights abuses against detainees.
"New evidence alleging Saudi Arabia's brutal torture of women's rights advocates and other high-profile detainees further exposes Saudi Arabia's utter contempt for the rule of law and failure to credibly investigate these allegations," said Michael Page, HRW Deputy Middle East and North Africa Director. "Letting abusers off the hook sends the message that they can torture with impunity and never face accountability for such crimes."
The information sprung from Dhabhan prison, north Jeddah, and from another "secret prison" as described by Saudi guards. High-profile detainees, such as Loujain Al-Hathloul, and another human rights activist, Mohammad Al-Rabea, were subjected to torture in Saudi prisons.