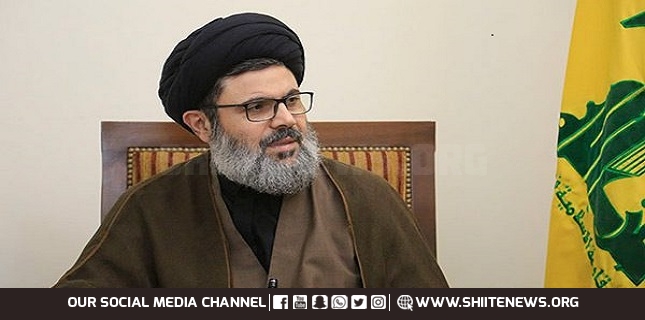 Head of Hezbollah Executive Council, Sayyed Hashem Safieddine, stressed that only dignified people can assume the responsibility of their nation, adding that addressing the socioeconomic crisis requires sustaining the national dignity.
Delivering a speech during a ceremony held to announce a group of Resistance Literature publications, Sayyed Safieddine indicated that some Lebanese insolently allege that the Resistance culture does not match with that of Lebanon historically.
His eminence stressed that the culture of the dishonor can never match with that of the Resistance, wondering how those Lebanese parties claim that Lebanon is multicultural while they reject the Resistance culture.
Sayyed Safieddine pointed out that the local corruption is behind part of the socioeconomic crisis, adding that the royal culture which invaded Lebanon 30 years ago is responsible for all the Lebanese calamity.