Yemen
Huge crowd rallies in Sana'a to mark anniversary of Saudi aggression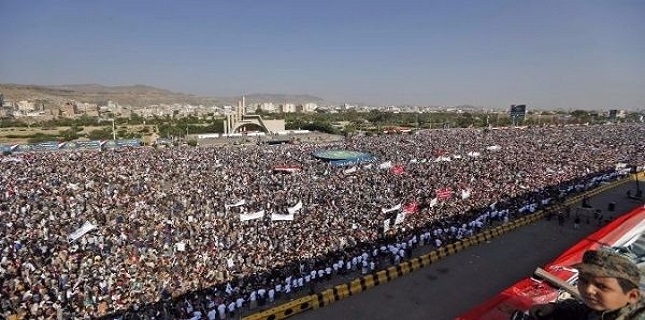 Yemenis have taken to the streets of the capital Sana'a to mark the third anniversary of the Saudi aggression against the impoverished country that has claimed the lives of thousands of civilians.
Large crowds of Yemenis from across the country flocked to al-Sabin square in Sana'a on Monday to take part in the protest to condemn the Saudi war.
The protesters carried Yemeni flags and photos of the victims of the Saudi military campaign, according to the Arabic-language al-Masirah television network.
They also held banners denouncing Riyadh's airstrikes and calling for resistance against the military aggression.
About 14,000 people have been killed since the Saudi military campaign began against Yemen on March 26, 2015. Much of the Arabian Peninsula country's infrastructure, including hospitals, schools and factories, has been reduced to rubble due to the war.
The United Nations says a record 22.2 million people are in need of food aid, including 8.4 million threatened by severe hunger. A high-ranking UN aid official recently warned against the "catastrophic" living conditions in Yemen, stating that there was a growing risk of famine and cholera there.
UN calls for 'peanuts' humanitarian aid
The United Nations Children's Fund (UNICEF) on Sunday called for an urgent humanitarian aid of $350 million to Yemen, saying it is "peanuts".
"UNICEF is asking for 2018 alone for its humanitarian program close to $350 million. That is peanuts compared to the billions of dollars that are currently invested in fighting war," Geert Cappelaere, Middle East and North Africa director at the UNICEF, said in Jordan's capital of Amman after visiting Yemen.
"We are asking for peanuts," he told reporters, apparently hinting at recent remarks by US President Donald Trump.
Trump boasted $12.5 billion of arms sales to Saudi Arabia during a meeting with the kingdom's Crown Prince Mohammad bin Salman on March 21, telling the MbS "that's peanuts to you."
Cappelaere said children are bearing the brunt of the war in many ways, and called for the "brutal senseless war on children to stop now."
"Five children were killed every single day in Yemen in 2017," he said, adding "every single girl or boy in Yemen is facing acute humanitarian needs."
He further said that an estimated 80 percent of all Yemenis are living in poverty.
"I was shocked last week in Sana'a by the hundreds … thousands of children who are begging in the streets," he said. "It is incredibly heartbreaking to see very small children stretching out their hands" for some food or money, he added.
The senior official also called for the flow of humanitarian aid into Yemen to be unimpeded.
"We are losing precious time discussing conditions that are imposed from all sides, conditions that are preventing us from delivering humanitarian assistance," he said.