Yemen
Yemeni forces supported by Ansarullah shoot down US reconnaissance drone over Sana'a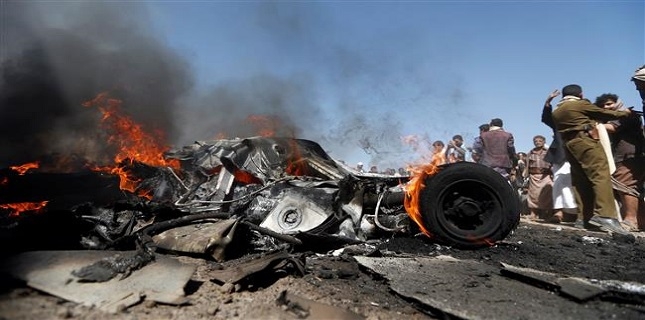 Yemeni army soldiers, supported by allied fighters from Houthi Ansarullah movement, have shot down a US unmanned aerial vehicle as it was on a reconnaissance mission over the capital Sana'a.
A military source, speaking on condition of anonymity, told Arabic-language al-Masirah television network that air defense units of the Yemeni army and fighters from the Popular Committees struck the General Atomics MQ-9 Reaper (sometimes called Predator B) drone Sunday afternoon.
The source, however, did not provide any information about the type of armament used to bring down the drone, and the details of the operation.
Dozens of people rushed to examine the debris from the burning aircraft at the northern entrance to Sana'a.
"This morning, we shot down an aircraft affiliated with the Saudi and American air force by the Popular Committees and with the help of God Almighty and we will shoot down more and more (of such aircraft) with the power of God whom we trust," local resident, Mohamed al-Wade'y, said.
The development came a few hours after two people, including an African national, sustained injuries when Saudi fighter jets carried out an airstrike against a farmland in the al-Moghram area of Baqim district in Yemen's mountainous northwestern province of Sa'ada.
Yemeni army soldiers and allied fighters also fired a locally-manufactured Zelzal-2 (Earthquake-2) missile at a position of Saudi-backed militiamen loyal to Yemen's resigned president, Abd Rabbuh Mansur Hadi, in al-Hamli area of Mawza' district in the southwestern province of Ta'izz, leaving a number of them killed and injured.
Saudi Arabia has been incessantly pounding Yemen since March 2015 in an attempt to crush the popular Houthi Ansarullah movement and reinstate Hadi, who is a staunch ally of the Riyadh regime.
More than 12,000 people have been killed since the onset of the Saudi military campaign against Yemen more than two and a half years ago. Much of the Arabian Peninsula country's infrastructure, including hospitals, schools and factories, has been reduced to rubble due to the Saudi war, which has also triggered a deadly cholera epidemic across Yemen.
According to data provided by the World Health Organization and Yemen's Health Ministry, the country's cholera outbreak, the worst on record in terms of its rapid spread, has infected 612,703 people and killed 2,048 since it began in April, with some districts still reporting sharp increases in new cases.
The United Nations also says the Saudi war has left some 17 million Yemenis hungry, nearly seven million facing famine, and about 16 million almost without access to water or sanitation.