Yemen
Yemenis protest Saudi atrocities, UN blacklist decision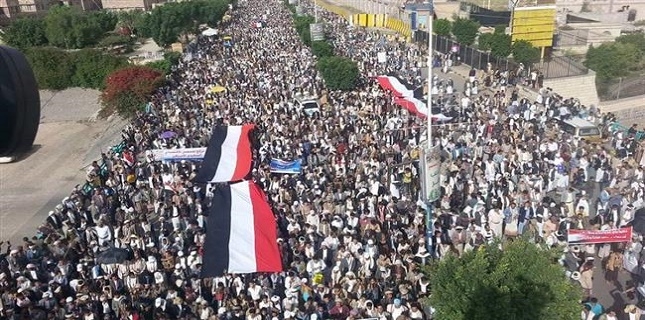 Yemeni people have taken to the streets in Sana'a to protest Saudi aggression against their country and the UN's removal of the kingdom from a blacklist of children's rights violators.
The protesters, including activists, gathered on Sunday near the Old City of Sana'a, a UNESCO World Heritage site, on the first anniversary of Saudi airstrikes on the site, a Press TV correspondent reported.
"We strongly denounce the UN and the international community for their silence toward the destruction," said protester Ali Heidarah. "This is a message from the Old City of Sana'a to the whole world, on the first anniversary of Saudi Arabia's brutal attack on our history."
In a separate rally in Sana'a, children gathered outside the UN office to protest the body's recent decision to drop Saudi Arabia from its blacklist of children's rights violators.
Last Monday, the UN removed Saudi Arabia from its annual blacklist, only a week after it announced the blacklisting of the regime for blatantly violating children's rights in Yemen.
The protesters chanted slogans against the kingdom and the United States and accused the UN of being complicit in crimes being committed in Yemen.
"We started our protest against the UN for turning a blind eye to a Saudi blockade that has killed many Yemenis," said protester Noha'a al-Hamzi. "We have the right to live like any other children around the world."
In a symbolic move, protesters donated money to the UN office to call on the world body to rid itself of the influence of powerful countries which fund it.
UN chief Ban Ki-moon publicly admitted on Thursday that he "temporarily" took Saudi Arabia and some Arab monarchies off the blacklist after they threatened to cut off funding to UN programs.
Ban harshly criticized Riyadh and its allies for putting the UN under "undue pressure" in order to have their names removed from the list.
A UN report last week held Riyadh responsible for 60 percent of children's deaths and injuries in Yemen last year. It attributed 510 deaths and 667 injuries to the Saudi aggression.
More than 9,400 people have been killed and at least 16,000 others injured in Yemen since last March, when Saudi Arabia launched its military aggression against the country.
Riyadh has been supported by Egypt, Morocco, Jordan, the United Arab Emirates, Sudan, Kuwait, Qatar and Bahrain in the military campaign.