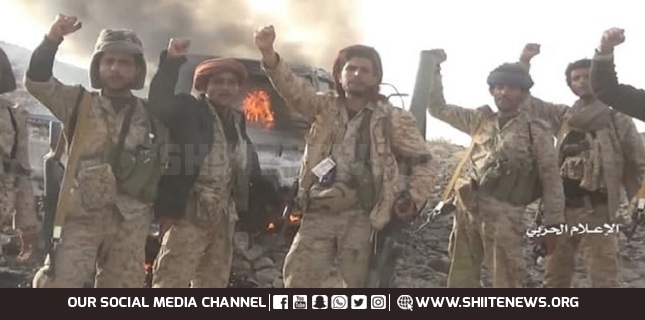 Yemeni forces have liberated another district capital in the strategic west-central province of Ma'rib, killing dozens of Saudi-led mercenaries and forcing hundreds of others among them to surrender.
Local Yemeni sources and various outlets reported the liberation of the city of al-Jadid, the capital of al-Jubah District, on Tuesday.
It took the Yemen army forces and Popular Committees 48 hours to wrest back control of the city, including its center, government buildings, and the mercenaries' camps, the sources reported.
According to Iran's Arabic-language al-Alam news network, the victory has brought the Yemeni forces within close range of Ma'rib's provincial capital that bears the same name as that of the province itself.
"The Yemeni forces are just a step away from the city of Ma'rib. They have tightened the grip on the invading mercenaries and taken the city under fire from three directions," al-Alam's reporter said.
Ma'rib, which is located right in the middle of a whole host of other Yemeni provinces, has turned into a focus of the Yemeni army's liberation operations since last year.
The province's recapture, towards which many advancements have been made so far, is expected to pave the way for further military victories for Yemen's armed forces.
Saudi Arabia and some of its allies have been staging a war on Yemen since 2015 to restore power there to the kingdom's former Riyadh-friendly officials.
The war and a simultaneous siege, which the Saudi-led coalition has been enforcing on the Arab world's already poorest nation, have killed tens of thousands of Yemenis.
The invasion has also pushed the entire Yemen close to the brink of outright famine, turning the country into the scene of the world's worst humanitarian crisis.
Yemen's defense forces have, however, vowed not to lay down their arms and resistance operations until the country's complete liberation.