World
MWM leader Maulana Raja Nasir stage demonstration at Bahraini Embassy London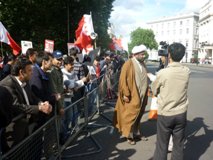 Majlis Wehdat Muslameen (MWM) Central secretary Maulana Nasir Abbas Jaffary on Saturday staged the demonstration outside the Bahraini Embassy London along with the people of Pakistani Shia Community living in London.
According to the Shiite News Correspondent, Scores of Pakistani citizens expressed solidarity with the uprising movement in Bahrain and condemned the atrocities of Bahrain regime against the oppressed people of Bahrain.
Allama Raja Nasiar Abbas, who was in London for his religious trip, also attended the demonstration organized by the Pakistani community of London, in support of Bahraini people.
The participants of the protest demonstration carrying the Bahraini flags and the portraits of the brutalities of Bahraini' Khalifa's regime and Saudi forces demanded of the International community to play their role to stop the brutal crackdown of Bahraini and Saudi forces in Bahrain.
The protestors demanded of the immediately withdrawal of Saudi-wahabi and gulf countries forces from Bahrain and underlined the need to grant the basic democratic rights to people of Bahrain.
Addressing the demonstration, MWM Central leader Allama Raja Nasir Abbass expressed his deep concern over the dishonoring of Holy Quran and destruction of Mosques, and Shrines in Bahrain by the Saudi-led Bahraini forces.
He said that Saudi regime and Bahrain's Khalifa's would not succeed in their conspiracies to eliminate the Islamic movement of Bahrain despite the continuous conspiracies and brutalities of the regimes.
Back to top button