World
Malaysia – Raid on Ashura Gathering / Ahlul Bayt Followers Under Severe Pressure in Malaysia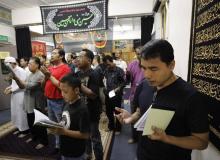 During the Ashura commemoration event on 15th December 2010, JAIS (state religious authority in Malaysia) raided the Hauzah ar-Redah in Gombak, State of Selangor and arrested 200 Shia people including the local scholar as well as the visiting scholar from Iran. While all of the attendees at this event seem to now have been released, the two clerics were released on bail and will be appearing at a  hearing on 20th January.
Prominent scholars have strongly criticized the persecution of Shia Muslims in Malaysia, suggesting that the country was moving towards "Talibanization."
Prominent Malaysian scholar Asri Zainul Abidin says it is a worrying sign that authorities in Kuala Lumpur are becoming more intolerant.
"Malaysia is trying to become a country a la Taliban that only allows one school of thought," the Associated Press quoted Zainul Abidin as saying.
"The officers broke into and damaged our prayer hall, a private property where we were having special prayers for the Prophet Mohammed's grandchildren," AFP quoted Kamil Zuhairi Abdul Aziz, a prominent Malaysian Shia leader, as saying in December.
On Ashura, Shia Muslims hold mourning ceremonies to pay homage to the third Shia Imam, Hossein (PBUH), and 72 of his companions and family members who were martyred in Karbala, Iraq, over 1,300 years ago.
Zuhairi says police forces are systematically violating the basic rights of the Shia community members in the country.
"If other communities like Hindus, Buddhists, Christians, Sikhs and others have their right to worship and practice under the constitution then why not us," Zuhairi added.
He went on to say that thousands of Shia Muslims in Malaysia practice their faith behind closed doors for fear of being targeted by authorities.
"We were condemned, criticized, slandered and threatened in local media just because we practice what had been preached by our ancestors who were Shias and have lived in Malaysia for centuries."
So if they found guilty, the punishments may range from 'six strokes' to 3 years in prison; those held under the Internal Security Act (ISA) can, in theory, be held indefinitely without charge.
For seekers of justice, the top-most responsibility is to stand in solidarity with the oppressed followers of the AhlulBayt (a) in Malaysia. From the stand of Imam Hussain (a) in Karbala, we learn of our inescapable religious duty to uphold the truth at all times, and to stand against all forms of oppression and injustice.
In this regard, We call on one and all to support our brothers and sisters in Malaysia, and apply much needed pressure on the Malaysian government and other relevant bodies such as the Organization of the Islamic Conference (OIC). We also underline that such instances of sectarian provocation serve the interests of the enemies.
Action required
Write to the Malaysian ambassador in your vicinity, demanding an explanation for such heavy handed techniques and the start of a culture of demonization.
International campaigners can find their local Malaysian embassy from this website:
Malaysian embassies
UK campaigners will find contact details in the sample letter provided.
Sample letter
A sample letter is given below for your convenience. Please note that model letters can be sent directly or adjusted as necessary to include further details. If you receive a reply to the letter you send, we request you to send a copy of the letter you sent and the reply you received to IHRC (Islamic Human Rights Commission). This is very important as it helps IHRC to monitor the situation with regards to our campaigns and to improve upon the current model letters. It is preferable that letters be sent via post, or otherwise by fax and/or email.
——————-
(UK campaigners can write using the address supplied below, fax: +44-207-235-5161or email:
mwlon@btconnect.com
)
[Your name]
[Your address]
Your Excellency, Datuk Abd. Aziz Mohammed
45 Belgrave Square
Belgravia
London
SW1X 8QT
United Kingdom
[Date]
Your Excellency, Datuk Abd. Aziz Mohammed
Re: Raid on Ashura gathering
I am deeply concerned after learning of the police raid on an Ashura religious gathering where 200 people including the Imam and the visiting Aalim from Iran were arrested on 16th December 2010. Â Although they have all been subsequently released, the two clerics are due to be charged on 20th January 2011. Â I sincerely hope that this is not the way Malaysian authorities treat their religious minorities.
The reason I carry such a concern is due to the media coverage of the incident. The portrayal was of a shia threat to Malaysian society by national media. This demonization however was not prevalent in English newspapers, which rather carried the story of the suspension of the leader of the opposition coalition, Ibrahim Anwar, and the walkout of the opposition from parliament.
I feel that the government has used the tool of sectarian demonization in its efforts to deflect scrutiny of its political actions amongst the Malay speaking masses, which will only result in disharmony and tension within society.
You have a responsibility to ensure the safety and welfare of all religious groups in Malaysia and protect them from demonization. Not only are you bound by international law to uphold such principles but also by your own national laws. I suggest you consider carefully the results of such misguided actions on the normal every day people of Malaysia who merely expect and are entitled to worship freely without any form of discrimination.
I would like to urge you to bring my concerns to the attention of the relevant authorities so that these politically driven charges are dropped before the sectarian nature of the media coverage is fuelled further and the demonisation of a minority results in marginalisation and possibly worse.
I look forward to hearing from you that this matter has been brought to a satisfactory conclusion.
Yours sincerely,
[Your signature]
[Your name]
——————-
IHRC is an NGO in Special Consultative Status with the Economic and Social Council of the United Nations.
Islamic Human Rights Commission