World
Bahrain Revokes Nationality of Ayatollah Sistani's Represents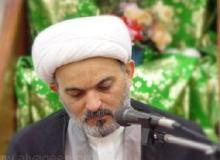 Bahraini authorities announced on Sunday that they have revoked the nationality of leading Shiite scholar Ayatollah Sheikh Hussain al-Najati, his wife and three children.
The move comes just hours after the authorities in Manama banned another Shiite clergyman, Sheikh Abdul Jaleel al-Miqdad, from delivering Friday prayer sermons for two weeks.
The Directorate of Passport and Immigrations said that the decision to revoke the citizenship of al-Najati and his family was made after a  routine review.
'The review showed that he, his wife, and children, had received the Bahraini passports in violation of the laws governing naturalization,' Under-Secretary for Immigration & Passport Affairs Shaikh Rashid bin Khalifa al-Khalifa was quoted in an Interior Ministry statement.
'The revoke was done in accordance with the law and if they desire to acquire Bahraini nationality through the appropriate legal manners they should re-apply for citizenship and that request will be considered in accordance with the laws that apply to such matters.'
Al-Najati, who represents the Iraqi grand Ayatollah Ali al- Sistaini in the small Gulf Island, is considered one of Bahrain's leading scholars, with a large following, especially among Shiites of Persian decent.
His office declined to comment on the decision.
The two-week ban on sermons by al-Miqdad was issued by Bahraini Minister of Justice and Islamic Affairs, Sheikh Khalid bin Ali al- Khalifa. It goes into effect on Friday.
The minister justified the decision, noting that al-Miqdad's sermons threaten civil peace, represent blatant interference in the work of law enforcement agencies, and show lack of respect for judicial proceedings. They also, he said, violate the ethics of religious discourse.
Both al-Najati and al-Miqdad are considered opposition figures and outspoken critics of the government regarding the indecent and brutal acts against Shiites being done in the country.
Al-Miqdad is also a close relative of Sheikh Mohammed Habib al- Miqdad, whom the authorities had arrested last month along with 22 other leading Shiite opposition figures as part of an ongoing security crackdown that resulted in the arrest of more then 250 people the government claims to be part of a terrorist attempt to overthrow the government.
Opposition groups and local and international human rights organizations say the claims are unfounded and continue to express concern over the condition of the detainees and the status of civic freedoms. Tensions between the nation's Shiite majority and Sunni- controlled government have been on the rise in recent weeks.