World
Shia Muslims and Pro-Democracy Activists Tortured in Bahrain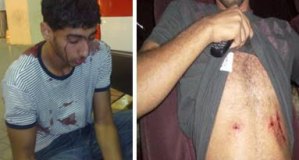 A Human rights group in Bahrain says Shias and pro-democracy activists are being arrested, tortured and sexually harassed by security forces.
"Since the 13th of last month, with the arrest of Dr. Abdul-Jalil Alsingace, human rights situation in Bahrain has been fast  deteriorating. Even in the streets, people are being kidnapped by special security forces, no one knows where they belong to," Nabeel Rajab, the president of Bahrain Center for Human Rights, told P.TV.
"They are kidnapped, they are tortured, they are sexually harassed and assaulted and they were pictured while naked. The situation is bad and people are being arrested on an hourly basis," he said.
In the weeks of confrontations between pro-democracy activists and security forces on the archipelago, around 250 activists, mainly Shias, have been detained, he said.
Violence in Bahrain is escalating as the government is stepping up pressure on the majority Shia Muslims and pro-democracy activists.
Tensions, which began in mid-August, took for the worse after the government arrested high-profile Shia leaders who rejected the political process.
On Tuesday, hundreds of people staged a rally in the capital Manama to protest Saudi Arabia's support for the crackdown, which comes ahead of the October 23 elections, the third since King Hamad bin Issa al-Khalifa introduced reforms in the late 1990s.
Human rights groups have also said that the detainees have undergone prolonged incommunicado detentions. There have also been widespread allegations that the government has severely tortured the detainees.
Government sources say they have charged 23 of them with plotting to topple the government.
The Shia community complains about discrimination in jobs and housing in a kingdom where the government is dominated by the ruling Sunni al-Khalifa family.
Meanwhile, Bahrain, home to the US Navy's Fifth Fleet and a regional offshore banking center, said on Wednesday that its security forces have arrested two people who had planned a series of car bombings to go off during festivities to mark the end of Ramadan.