World
Bahrain's Shia leader Condemns Continued Arrests, Reversing 10 Years of Sectarian Progress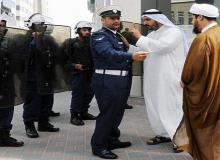 Bahrain — Bahrain's top Shia politician said a crackdown on Shiite protesters by Sunni rulers (just who follow US rules) has destroyed a decade of stable sectarian relations as the tiny Gulf state heads into parliamentary elections scheduled for October.
The wave of detentions — at least 160, according to one lawyer — has spilled over into near daily clashes between the majority Shiites  and Sunni-led security forces and fueled concerns of deeper unrest and heavy-handed tactics in the home of the U.S. Navy's Fifth Fleet.
Any serious breakdown in Bahrain has possible wider repercussions.
In April, Bahraini officials warned they could file charges against anyone posting news or commentary on mobile phones.
"The way the ongoing security campaign has been handled and the rights violations that accompanied it have in one week destroyed 10 years of progress in this country," said Sheik Ali Salman, the head of Wefaq society, the largest Shiite bloc in Bahrain's parliament at a press conference Saturday.
Shiites make up as much as 70 percent of Bahrain's population, according to a 2008 State Department report.
Salman also accused the government of tarnishing Bahrain's human rights record, and warned violence would not solve the continued problems between the two groups. Several prominent international rights groups, including Human Rights Watch and Amnesty International, have denounced the recent arrests.
Shiites have complained of discrimination for decades. They say Sunnis get the best government jobs and housing, while Shiites are barred from high posts in the military and security forces and suffer from higher rates of poverty.
A government statement issued Saturday blamed internationally funded insurgents for trying to disrupt national security. It also said the suspects were arrested according to Bahraini anti-terrorism laws.
Lawyer Mohammed al-Tajir estimates that over the past week 160 people have been detained, including 10 high level leaders.
"The number is on the rise from last week and differs from one lawyer to another," he said. "We are having trouble meeting with the detainees and finding out where they are kept."
Source: ABNA