World
Chechen President: Ukraine has more Evil Wahabis than Chechnya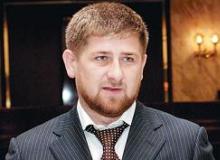 Chechen President Ramzan Kadyrov believes that today there are more evil Wahhabis in Ukraine than in his motherland.
"Today Ukraine has more Wahhabis than Chechnya," Kadyrov was quoted as saying by Express-Gazeta paper.
According to him , "many fanatics" come to Chechnya through Ukraine.
"If they (Ukrainian authorities – IF) are not going to fight against it, soon Wahhabis will do the same things in Ukraine as they did in Chechnya," Kadyrov believes.
Chechnya head is going to leave politics as soon as he overcomes Wahhabi threat in Chechnya and will devote himself to lecturing, the edition reports.
"I'll deliver lectures how to cope with this evil," he stated