World
Russia produces Poseidon nuclear super torpedoes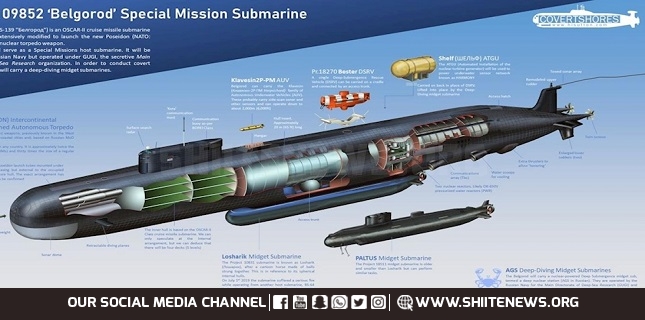 Russia has produced the first set of Poseidon nuclear-capable super torpedoes that are being developed for deployment on the Belgorod nuclear submarine, TASS reported on Monday, citing an unidentified defense source.
Since a grim New Year's Eve message describing the West as Russia's true enemy in the war on Ukraine, President Vladimir Putin has sent several signals that Russia will not back down.
He dispatched hypersonic missiles to the Atlantic and appointed his top general to run the war.
US and Russian officials have both described Poseidon as a new category of retaliatory weapon, capable of triggering radioactive ocean swells to render coastal cities uninhabitable.
"The first set of Poseidons have been manufactured, and the Belgorod submarine will receive them in the near future," TASS, a state news agency, quoted the source as saying.
TASS said the main components of Poseidon, including a nuclear reactor to give the torpedo its own power source, had been successfully completed. The crew of the Belgorod nuclear submarine has also completed tests with models of the torpedo.
Russia's defense ministry has shown videos of the 24-meter Poseidon, known as Kanyon by NATO, including simulations showing it destroying an enemy aircraft carrier and hitting the shoreline.
Last year, the US Naval Institute said Russia's development of Poseidon turned assumptions about submarine-launched nuclear weapons upside down.