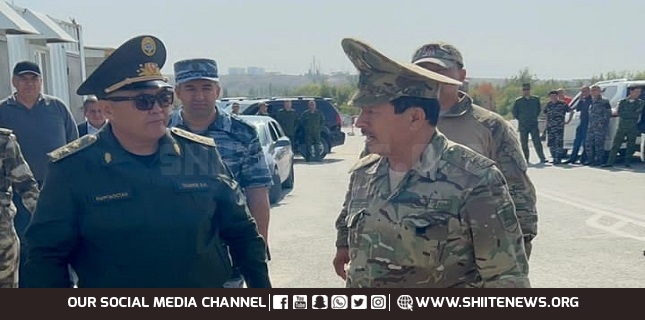 Kyrgyzstan's President Sadyr Japarov and his Tajik counterpart, Emomali Rahmon, have reached a ceasefire agreement following deadly clashes between the two neighboring countries, with Bishkek accusing Dushanbe of resuming artillery shelling shortly after the truce deal.
The Kyrgyz president's office said in a statement on Friday the two sides had agreed in a meeting in Uzbekistan to order a ceasefire and the withdrawal of troops from the disputed areas.
The ceasefire was set to take effect from 16.00 local time (10.00 GMT), with Tajik authorities confirming the agreement.
However, Kyrgyzstan's border guard service said "violent clashes" had broken out "along the entire perimeter of the Kyrgyz-Tajik border in the Batken region" after the agreement took effect.
The Kyrgyz side accused Tajikistan of using heavy weapons, including rocket launchers and jets, but said its forces were repelling the attacks "making it impossible for them to capture settlements in Kyrgyzstan."
The Kyrgyz Health Ministry said 42 people had been injured and that medical facilities in the border region of Batken had been put on alert.
Meanwhile, the Russian Foreign Ministry repeated an offer to oversee peace talks between the two former Soviet republics as the ceasefire was announced and urged them to negotiate an end to the dispute.
"We call on both sides to take urgent and comprehensive measures to bring the situation to political and diplomatic channels and to stop any attempts at escalation including by provocations from third parties," the Kremlin said.
Fresh clashes erupted on the border earlier in the day, with Tajikistan accusing Kyrgyz forces of shelling one of its outposts and seven villages with "heavy weaponry," killing one civilian and injuring three others.
About 18,500 people have already left the area, Russia's RIA news agency cited the Red Cross as saying.
Fighting regularly flares up between the two countries that share a 970-kilometer border, with about half of the frontier contested.
Earlier this week, the two estranged neighbors were involved in a brief confrontation, with both sides blaming the other for the violence.
The fighting has raised fears of yet another conflict in the ex-Soviet region after unprecedented clashes between the two sides killed 50 people in 2021.