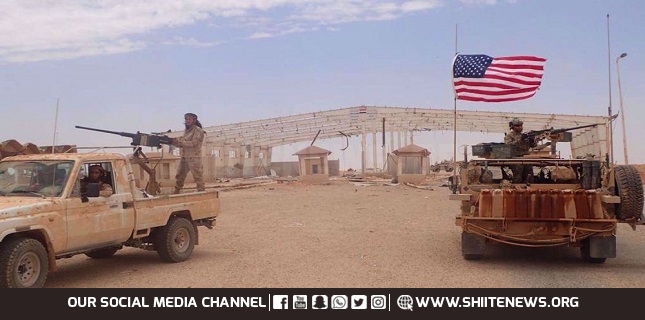 The Foreign Intelligence Service of the Russian Federation (SVR RF) says US occupation forces deployed in Syria's strategic al-Tanf region, near the borders with Iraq and Jordan, are reportedly providing military support to Takfiri Daesh terrorists and training them for field operations in Ukraine.
According to a report published by Russia's Arabic-language RT Arabic television news network, approximately 500 Daesh terrorists and militants from Caucasus and Central Asian countries are currently undergoing training at the camp to carry out acts of sabotage and terrorist attacks against units of the Russian armed forces both inside Syria and in the Eastern European country.
A number of captured Daesh terrorists have already confessed to close cooperation with US military forces stationed at al-Tanf base in the central Syrian province of Homs on carrying out various acts of terror and sabotage.
During confessions broadcast on Syria's state-run television network in May 2020, several terrorists revealed that they were instructed by American forces to target Syrian government troops in and around the ancient city of Palmyra, the Tiyas Military Airbase – also known as the T-4 Airbase, the Shaer gas field as well as nearby oil wells.
Last month, Syria's official news agency SANA, citing local sources speaking on condition of anonymity, reported that a number of Daesh terrorists were being trained at the US military base in al-Shaddadi town of Syria's northeastern province of Hasakah on how to fire rocket-propelled grenades (RPGs), shoulder-launched rockets as well as anti-armor and anti-aircraft missiles.
The sources added that the Takfiris were set to be transferred within a short period of time to Jazira Region in the eastern Syrian province of Dayr al-Zawr and the Syrian Desert, northeast of the capital Damascus, to attack positions of Syrian army forces, vital facilities and popular gatherings.
Russian President Vladimir Putin announced the military offensive against Ukraine on February 24. The conflict has provoked a unanimous response from Western countries, which have imposed a long list of sanctions on Moscow.
The United States and its Western allies have also stepped up military support for Ukraine, sending a wide array of defensive weapons meant to hold off Russia's advance.
Russia says it will halt the operation instantly if Kiev meets Moscow's list of demands, including never applying to join NATO.