World
Blinken: US gives 'green light' to Poland to send fighter jets to Ukraine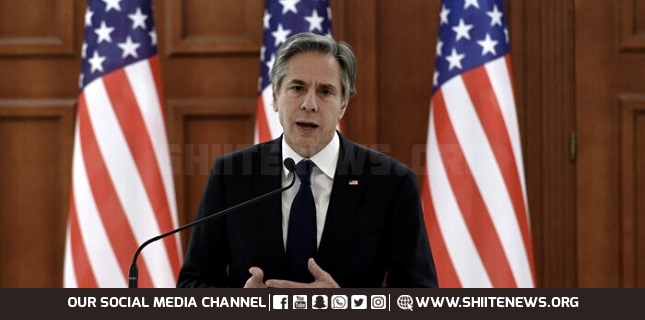 US Secretary of State Antony Blinken says the United States has given "the green light" to Poland to send fighter jets to Ukraine, where Russia says it is carrying out a military operation to stop the government there from committing genocide against Russian-speaking people.
Host Margaret Brennan on CBS's "Face the Nation" asked Blinken on Sunday, "If, for instance, the Polish government, a NATO member, wants to send fighter jets, does that get a green light from the US?"
"That gets the green light. In fact, we're talking with our Polish friends right now about what we might be able to backfill their needs if in fact, they choose to provide these fighter jets to the Ukrainians. What can we do? How can we help to make sure that they get something to backfill the planes that they're handing over to the Ukrainians?" said Blinken, who is currently in Moldova, Ukraine's southeastern neighboring country.
US Ambassador to the United Nations Linda Thomas-Greenfield also made similar remarks on ABC's "This Week" on Sunday.
"We have been in close consultations with the Polish government as well as with our other NATO allies on this issue. We have not in any way opposed the Polish government providing these jets to Ukraine, and we're working, as you noted, to see how we can backfill for them," she said.
Blinken on Saturday met Polish Prime Minister Mateusz Morawiecki and Foreign Minister Zbigniew Rau after attending a summit meeting of NATO foreign ministers in Brussels during which the US-led military alliance reiterated its pledge to expand support for NATO eastern flank members such as Poland in efforts counter Russia's military operation in Ukraine.
Blinken emphasized that his visit to Poland was coming at "one of the most urgent moments in the long history between our two countries," vowing that recent deployments of American forces to the country would continue.
The development comes amid reports of a massive US-led transfer of advanced weapons into Ukraine despite Russian warnings that the huge delivery of modern armaments might fall into the hands of terrorists who might use weapons, such as the shoulder-fired anti-aircraft systems, to threaten civilian aviation.
Russian President Vladimir Putin announced last week a "special military operation" in Ukraine's Donbas region to "defend people" subjected to "genocide" there against government forces, stressing that Moscow has "no plans to occupy Ukrainian territory."
US President Joe Biden called the Russian action an "unprovoked and unjustified attack," and the American media described it as the biggest assault on a European state since World War Two assault by Russia.