World
Azerbaijani Shiite town of Nardaran witnesses massive protests against Charlie Hebdo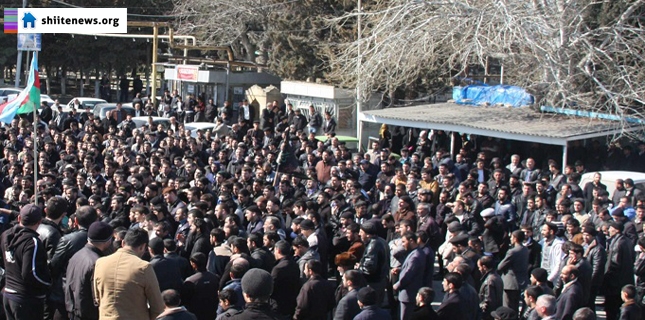 Hundreds of angry protesters in Azerbaijan have taken to the streets to protest publication of a blasphemous cartoon of Islam's Prophet Muhammad by the French satirical magazine Charlie Hebdo.
The protesters gathered in the town of Nardaran on Wednesday calling on the Azerbaijani Foreign Ministry to take a position regarding the publication of the cartoon.
Demanding respect for their religion, the demonstrators burned the flags of US, France and Israel while holding banners that read "Islam is not defenseless" and "France is afraid of Islam."
The majority of the people living in the Middle Eastern country of Azerbaijan are Shiite.
Muslims in other parts of the world such as the besieged Gaza Strip, Iraq, and Kashmir also took to the streets to show their anger at Charlie Hebdo.
A wave of protests has spread since the magazine once again printed a cartoon of the Prophet, only days after a January 7 attack on its offices in Paris, which left 12 people, including its editor, dead.
Charlie Hebdo has a history of insulting Islamic sanctities, repeatedly provoking Muslim anger by publishing sacrilegious cartoons of Prophet Muhammad.