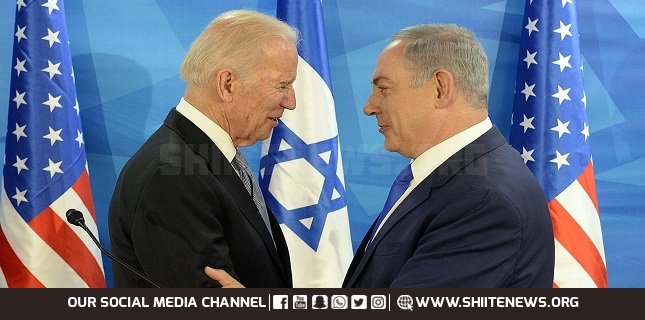 A number of Democrats in the US Congress have called on the administration of President Joe Biden to take a tougher stand against Israel and support Palestinian rights in the face of increased Israeli aggression.
"The fact that this administration is even hesitating to take such a basic humane stance is disappointing and unacceptable," Rep. Alexandria Ocasio-Cortez (D-N.Y.) told reporters at the Capitol on Friday. "We can't advance this idea that we're some neutral party in this situation if our actions are consistently targeting Palestinians."
She pointed to a "strong generational shift" that is undergirding the disdain for the Washington foreign policy establishment, according to Politico.
At least 139 Palestinians, including 39 children and 22 women, have been killed and about 1,000 others injured in Gaza in the Israeli regime's onslaught against Gaza that began on Monday.
The United States dramatically deepened its involvement in the latest Israeli-Palestinian conflict on Wednesday, with President Joe Biden offering his unconditional support for the Israeli regime.
"If the Biden administration puts the rule of law and human rights at the heart of its foreign policy, this is not a moment for tepid statements," Sen. Chris Van Hollen (D-Md.) said on Friday, referring to looming evictions that would constitute a violation of international law.
The Israeli-blockaded Gaza Strip and the occupied Palestinian territories have been simmering with rage in the past weeks over Israel's scheme to expel dozens of Palestinians from their homes in the volatile Sheikh Jarrah neighborhood of the Old City in occupied East Jerusalem al-Quds as part of a long-running scheme to Judaize Palestinian lands.
The anger against the Tel Aviv regime further intensified earlier this month with Israeli attacks on Palestinian worshipers in the al-Aqsa Mosque compound during the fasting days of the holy Muslim month of Ramadan.
The Israeli military has been under fire globally over its crimes against Palestinians, especially those residing in Gaza, which has already been under a crippling Israeli siege.
The Palestinian resistance movement Hamas said on Saturday it fired dozens of rockets at Israel in response to the killing of a Palestinian family of 10, including eight children.
The pre-dawn airstrike by Israeli warplanes against al-Shati refugee camp also killed two women from the Abu Hatab family and injured 15 others, the Palestinian Ma'an news agency reported.
Sen. Chris Murphy (D-Conn.) criticized Hamas for firing rockets into Israel also slammed the Israeli regime for "effectively eliminate(ing) the prospect of a viable future Palestinian state."
"The administration must take this issue off the back burner and more urgently undo the harms done by the Trump administration that heightened tensions and pushed peace further out of reach," said Rep. Andy Levin (D-Mich.), a progressive and a self-described Zionist who has urged the Israelis to cease what he calls an "occupation and creeping annexation."
Senator Murphy did not speak out directly against Israel's activities, but said that the Palestinians are being implicitly told that they will never be able to achieve sovereignty.
"In the wake of this crisis, it's even more important for the United States to draw a harder line with the Israeli government and demand that these settlements and these evictions and these displacements stop," Murphy added. "Because the violence will not end, whether we like it or not, if the Palestinians feel like they have no future and no ability to determine their own path."