World
51 civilians, 18 security forces killed in unrest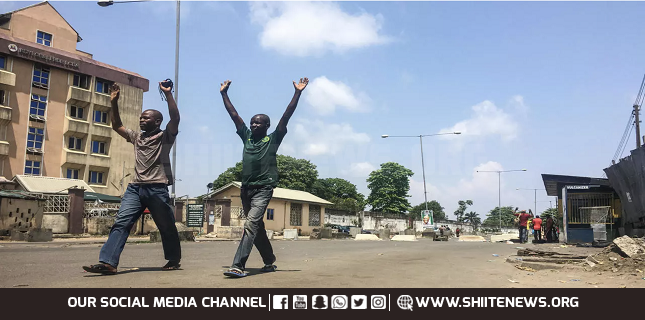 Nigeria's president said that 51 civilians and 18 security forces were killed in unrest following days of peaceful protests over police abuses and blamed "hooliganism" for the violence.
"Many lives have been lost" in Nigeria's unrest, the president's office announced Friday, as the government said days of peaceful protests over police abuses had been hijacked by thugs.
Sporadic gunfire was heard Friday morning but the center of Nigeria's economic hub appeared calmer by the afternoon, and Lagos governor Babajide Sanwo-Olu announced he was easing the curfew.
From Saturday, he said, "people can go out between 8:00 am and 6:00 pm."
President Muhammadu Buhari said in a statement released late Friday that the government "will not fold its arms and allow miscreants and criminals continue to perpetrate acts of hooliganism."
Buhari also said 11 policemen and seven soldiers had been killed by "rioters" as of Thursday, and "the mayhem has not stopped." He added that another 37 civilians were injured.
The shooting of peaceful protesters by security forces in Lagos on Tuesday triggered two days of unrest with shops and buildings looted and vandalized.
Heavily armed police stopped a handful of cars left driving in the deserted streets on Friday while a few people tried to find their way home after the city was put under lockdown.
A warehouse was looted on Friday in Ojo, near Lagos, witnesses told AFP.
"They looted everything on site. They took everything they could lay their hands on," another witness said.
In the national address Thursday, Buhari did not mention the shootings that sparked international outrage. The president instead warned protesters against being used by "subversive elements" and "undermining national security and law and order."
The protests turned violent Wednesday after the military's shooting a day earlier, as mobs vandalized and burned police stations, courthouses, TV stations, and a hotel.
Police battled angry crowds with tear gas and gunfire. The looting and shooting continued on Thursday.
The demonstrations began early this month with calls for Nigeria's government to shut down the Special Anti-Robbery Squad, a notorious police unit known as SARS.
The squad was launched to fight crime but it carried out torture and killings, according to Amnesty International.