World
Six Jews companies controlling 90% of International Media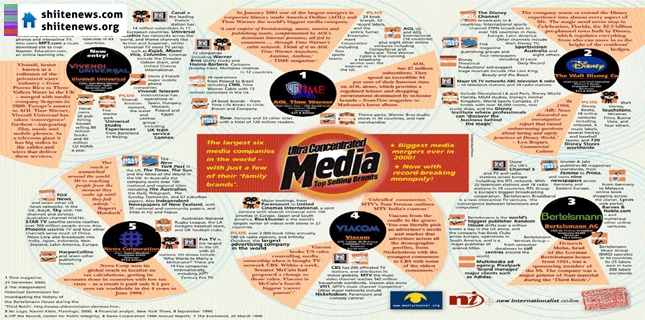 A survey named "Who controls international media" surfaced which provided details of companies and their owners. According to statistics of survey 90% of international media is controlled by Jews which included news agencies, News papers, electronic media and international journals.
Report said that six Jews companies are controlling more than 90% of international media. The largest among them is Walt Disney. This company has numerous production houses in US and it has three largest newspapers, three magazines and a wide cable network which has 14 million consumers. Other companies included time Warner which owns HBO, US largest pay T.V cable network.
Apart from this US largest Magazine" Time Magazine , which is most popular in US and has wide number of consumers. Similarly Y.com is also owned by Jews. It has paramount pictures and MTV in its ownership. Jews are not only controlling international media but also changing the public perceptions about Jews.
More than 90% printing organizations are also run by Jews. Newspapers of worth 60 million are sold on daily basis and 75% of which is owned by Jews. US three major newspapers New York Times, Wall Street Journal and Washington Post are owned by Jews. Meanwhile Muslims has ten times more wealth than Jews but they just spending a lavish life. They are trying to subdue each other by making towers, hotels and shopping malls.