World
Washington Mayor calls on Trump to pull troops, federal forces out of city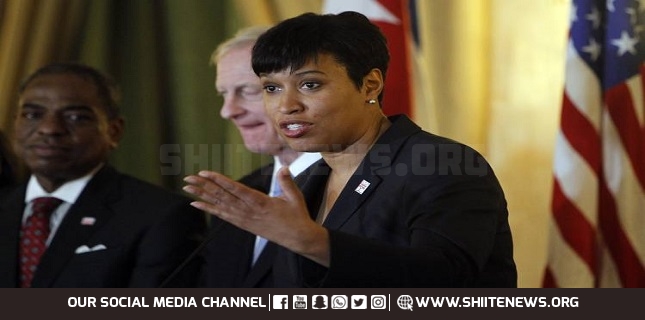 Washington Mayor has called on Donald Trump to withdraw thousands of national guard soldiers and federal law enforcement officers from the capital, complaining about unidentified units operating outside the police chain of command.
On Friday morning, the 200-strong Utah national guard contingent were packing their bags and preparing to leave their hotel by noon. Mike Lee, a Republican senator from the state, said they, and hundreds of other national guard troops, were being kicked out of their hotels by the Washington Mayor, Muriel Bowser. There was no immediate response to a request for comment from Bowser's office.
Lee's office said it was unclear where the Utah troops, who include Green Berets, would go, but they would not be leaving Washington.
"Lodging and accommodations are still up in the air for this evening," a spokeswoman said.
On Donald Trump's order, about 4,500 national guard troops from around the country were flown to Washington early this week, and a wide assortment of special units from the Bureau of Prisons, the Drug Enforcement Agency, the FBI and the US Marshal's Service.
In total, 7,600 soldiers and officers were deployed in Washington, including 1,700 active-duty troops in reserve in bases around the capital, according to Bloomberg News.
Several hundred of those active-duty soldiers, including a unit from the 82nd Airborne Division, have been ordered to return to their home bases. But the combined military and federal agency deployment are still more than the US forces currently in Iraq.
Several of those units – including military police, United States park police and Secret Service – were involved in violent scenes on Tuesday when officers fired teargas and rubber bullets to clear peaceful protesters from outside the White House.
Since then, groups of uniformed officers in helmets and body armor – often without identifying insignia – have appeared in Washington, expanding a security perimeter around the White House into the city's commercial district – and prompting questions about who was in control of the streets and the public right of way.
When reporters asked one group about their affiliation, an officer replied "DoJ", the Department of Justice, but would not be more specific. All the federal law enforcement agencies deployed in Washington are reporting to the attorney general, William Barr, who has been the architect of the heavy military presence and who told state governors on Monday: "Law enforcement response is not going to work unless we dominate the streets."
In a letter to the President, Mayor Bowser, said: "I continue to be concerned that unidentified federal personnel patrolling the streets of Washington DC pose both safety and national security risks.
"Our police and incident command have clear channels of communication and roles, and it is important to note that these additional unidentified units are operating outside of established chains of command," Bowser wrote. "This multiplicity of forces can breed dangerous confusion."