World
Thousands of protesters rally outside White House despite curfew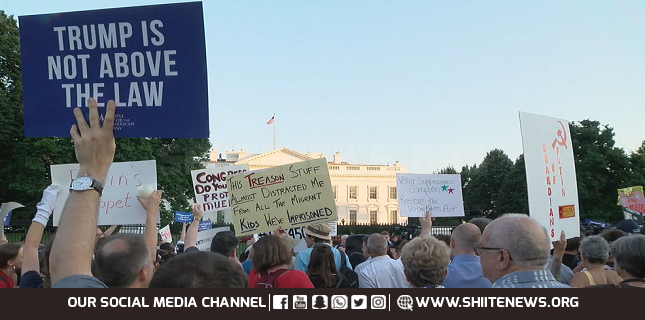 Thousands of protesters have rallied outside of the White House despite the curfew, which started at 7 p.m. local time.
The crowds grew thinner around 10 p.m. local time, but there were still some protesters outside the White House fence, according to CGTN reporter Eshalaxmi Barlingay on the scene.
On Tuesday night, social media users posted photos showing a military show of force on the steps of the Lincoln Memorial in the US capital.
All across the country, protesters raw, sad and angry, over the killing of George Floyd, and the disproportionately high number of black Americans who face injustice, violence, and death, filled the streets again on Tuesday.
Mostly peaceful throughout the day, the demonstrators faced police officers, National Guard troops, and other forces.
In New York City, Demonstrators throughout the country showed up, even in smaller towns such as Brattleboro, Vt., and Kingman, Ariz.
Meanwhile, the Pentagon has deployed some 1,600 US troops in the region of Washington DC after the city faced violent riots earlier amid protests over George Floyd's death.
According to a Pentagon spokesman, Jonathan Rath Hoffman, the troops were on "heightened alert status" but did not take part in "defense support of civil authority operations".
The move comes after Trump announced that "all federal resources", including those of the military, could be mobilized as a means of restoring order in the city. Trump also "strongly recommended" that every state governor deploy the US National Guard in numbers high enough "to dominate the streets", warning that if they failed to do so, he would deploy US military assets in those locations.
At least five individuals, including two New York Police Department officers, were reportedly shot in Brooklyn Tuesday.
A spokesperson for the Office of the Deputy Commissioner, Public Information said in a Tuesday statement to Newsweek, "Confirmed police-involved shooting unrelated to protests/looting." The firearm used by the shooter was recovered.
The demonstrations are the result of anger over the death of an African-American man, George Floyd, who was killed by a white police officer while being arrested.
Floyd's neck and chest were pressed to the ground by policemen for nearly nine minutes, despite the victim's pleas that he could not breathe.