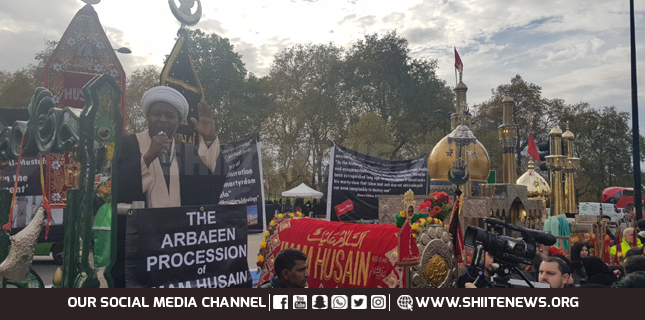 Arbaeen azadari held across the world, including almost all continents.
Arbaeen azadari held across the world
Although almost all continents around the globe had representation in Arbaeen in Iraq, those could not join them, held Arbaeen rallies in their countries.
Reports of Arbaeen mammoth congregations also came from Berlarus and Azerbaijan Republic.
People in Belarus and the Azerbaijan Republicobserved the Arbaeen anniversary of Imam Hossein (AS), grandson of Islam's Prophet Mohammad (PBUH).
Specially, Iranian Embassy in Minsk also hoste Arbaeen religious ceremony in Belarus.
Meanwhile, thousands of people took part in Arbaeen ceremonies across Azerbaijan Republic.
Moreover, huge rallies marked the Arbaeen anniversary in United States, United Kingdom, other EU countries, Africa, India, Pakistan, Indonesia, Malaysia, Canada, Australia, etc.
Backgrounder
Most importantly, Shia Muslims go to pilgrimage of sacred shrines of Islamic saints. Although they regularly visit shrines of infallible Imams of Shia Islam, yet 20th Safar remains reserved for pilgrimage of Karbala.
Notably, Zaireen (pilgrims) regularly visit holy shrines of infallible Imams of Shia Islam in Iraq, Iran and Medina .  But, they commemorate anniversary of 40th day (Arbaeen in Arabic and Chehlum in Urdu) of martyrdom anniversary of Ashura on 20th Safar.
Ashura to Arbaeen
Factually, Ashura too remains a special day of scared mourn in Shia Islam. That's because of matchless martyrdoms of Imam Hussain-led Martyrs of Karbala.
However, infallible leaders of Shia Islam had emphasised on pilgrimage of sacred shrine of Imam Hussain on Arbaeen.
Hence, Shia Muslims try their level best to reach Karbala (Iraq) on 20th Safar.
And those who cannot go to Karbala, participate in Arbaeen walk in their native cities and towns across the world. That remains Shia Islamic tradition.
Notably, in Pakistan and India, Arbaeen is called Chehlum, the 40th day.