Saudi Arab
1,000 Saudi troops enter Bahrain to crush demonstration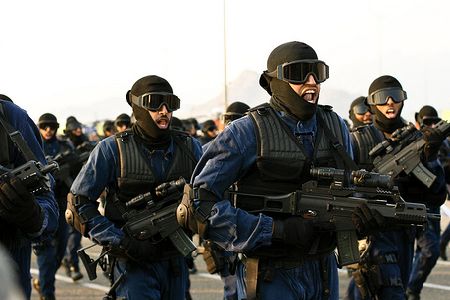 Troops from a number of Gulf states, including Wahabi-Salfi Saudi Arabia, have arrived in Bahrain in response to a request from the small Gulf kingdom, officials say.It comes a day after the worst violence since seven anti-government protesters were killed in clashes with security forces last month.
Dozens of people were injured on Sunday as protesters pushed back police and barricaded roads. Bahrain's Shia opposition said the foreign troops amounted to an occupation to crush the peaceful pro-democracy protestors.
A Saudi official said about 1,000 Saudi Arabian troops arrived in Bahrain early on Monday. The troops are part of a Gulf Co-operation Council (GCC) deployment, a six-nation regional grouping which includes Bahrain, Saudi Arabia, Kuwait, Oman, Qatar, and the United Arab Emirates.
It is believed they are intended to guard key facilities such as oil and gas installations, financial institutions and the government of Khalfia family.
Bahrain's Shia majority has long complained of discrimination at the hands of the Sunni ruling elite, but large-scale protests broke out last month after the presidents of Egypt and Tunisia were toppled in uprisings.
In a statement issued before the arrival of the GCC troops was confirmed, the Shia-led opposition said: "We consider the arrival of any soldier, or military vehicle, into Bahraini territory… an overt occupation of the kingdom of Bahrain and a conspiracy against the unarmed people of Bahrain."
King Hamad bin Issa al-Khalifah has offered dialogue with the protesters but they have refused, saying they want the government to step down
Back to top button