Saudi Arab
Saudi king Salman phones Trump to thank him over Iran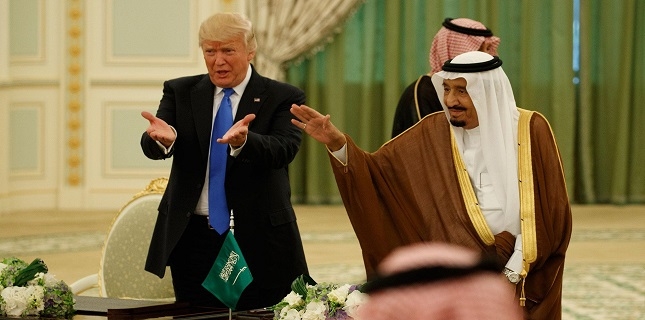 Saudi Arabia's King Salman has telephoned Donald Trump, voicing appreciation for the aggressive speech that the US president delivered against Iran on Friday night, the official Saudi Press Agency reported.
Salman "affirmed the kingdom's support and welcomed the firm strategy announced by Trump towards Iran and its aggressive activities and support for terrorism in the region and the world," it cited the monarch as saying during the Saturday conversation.
Trump on Friday asked the US Treasury Department to impose further sanctions on "the entire" Islamic Revolution Guards Corps (IRGC) for what he claimed was "its support for terrorism."
Accusations of terrorism against Iran are due to the country's support for groups such as Hezbollah which are fighting Takfiri terrorist groups in Syria and Iraq where Saudi Arabia is widely known to be sponsoring them.
In his talks with Trump, the Saudi king "praised the leadership role of the new US administration, which recognizes the magnitude of these challenges and threats," the report said.
Trump "expressed his appreciation for the initiative of King Salman and his support, and stressed the keenness of the US to work with its allies to achieve security and world peace."
The United States is a key source of weapons for Saudi Arabia which has been bombarding Yemen since 2015, leaving thousands of civilians dead.
Saudi Arabia was Trump's first stopping point on his maiden foreign trip as president, where he signed deals worth more than $300 billion, including $110 billion in arms sales.