Saudi Arab
Saudi Calls on Syria's Assad to Step down before Transitional Government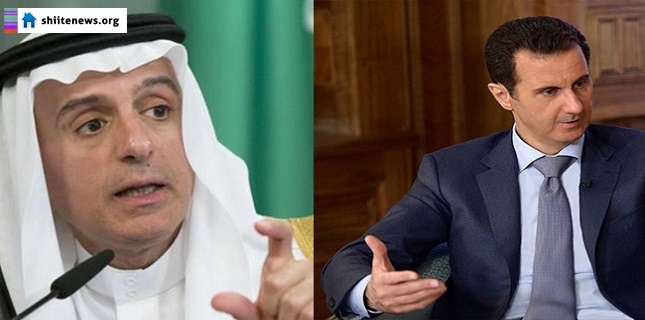 Saudi Arabia says Syrian President Bashar al-Assad must step down from power at the beginning of a political transition in the war-ravaged country, not at the end.
"For us it is very clear it's at the beginning of the process, not at the end of the process. There is a transitional body, power shifts from Assad to the transitional body, and then he goes," Saudi Foreign Minister Adel al-Jubeir told journalists in Paris on Saturday.
He added there would be no future for Assad in Syria, claiming that most of the world governments hold such a stance. On September 29, 2015, Jubeir threatened Assad to leave office or face being removed via military intervention.
"There are two options for a settlement in Syria; one option is a political process where there would be a transitional council; the other option is a military option, which also would end with the removal of Bashar al-Assad from power," he said at the United Nations General Assembly in New York.
The renewed demand for the downfall of Assad comes as the Western backers of Riyadh, particularly the US, have dismissed calls for regime change in Syria, following the army's strategic gains in the battlefield against terrorists, including the Daesh Takfiri group.
On the other hand, Syria accuses Saudi Arabia of funding and arming terrorist groups operating inside the country.
On Friday, the UN special envoy for Syria, Staffan de Mistura, also confirmed the role of Syrians in determining the future of their homeland and rejected foreign interference in the country's affairs.
"Can't we leave the Syrians to actually decide on that? Why should we be saying in advance what the Syrians should say, as long as they have the freedom and the opportunity of saying so?" he noted.
A ceasefire agreement in Syria brokered by Russia and the United States entered into force on February 27 between the Syrian government and the opposition groups.
Syria has been gripped by foreign-backed militancy since March 2011. According to a February report by the Syrian Center for Policy Research, the conflict has claimed the lives of over 470,000 people, injured 1.9 million others, and displaced nearly half of the country's pre-war population of about 23 million within or beyond its borders.