Saudi Arab
Saudi war on Yemen paves way for Takfiris: UN secretary general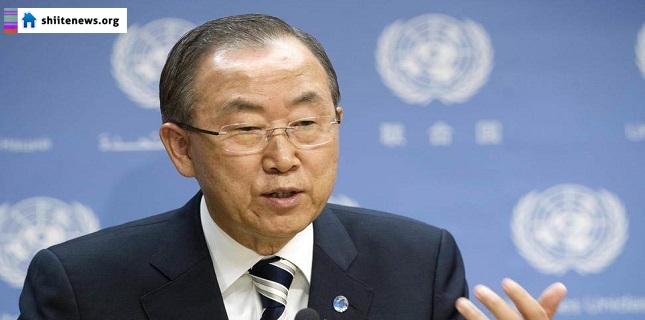 UN Secretary General Ban Ki-moon has warned that Saudi Arabia's war on Yemen could pave the way for Takfiri and Wahhabi militants through Somalia.
The security of Somalia and the whole region is threatened by the al-Qaeda-linked al-Shabab militants, the Associated Press quoted Ban as saying in a UN Security Council report circulated on Monday.
Ban warned that "the crisis in Yemen has the potential to further destabilize the region and open a corridor" for Takfiri militants through Somalia.
The secretary general underlined the increased activities by the terrorist group, mentioning the attacks in Somalia's northeastern semi-autonomous region of Puntland and the Garissa University massacre in Kenya back in April.
Further discussion on the report will be on the agenda of the Security Council session on Tuesday.
On May 9, the Takfiri militants claimed responsibility for the assassination of Puntland MP Said Hussein Nur, a day after the parliament member was shot dead by heavily armed gunmen as he was leaving a local mosque.
Nur is the second Puntland lawmaker assassinated in recent weeks. Last month, al-Shabab militants opened fire at Aden Haji Hussein and killed him on the spot as he was on a visit to Mogadishu.
On April 2, al-Shabab militants attacked the Garissa University College campus, and killed 147 students.
Somalia has been the scene of deadly clashes between government forces and al-Shabab militants since 2006.
Saudi Arabia started military aggression against Yemen on March 26 — without a UN mandate — in a bid to undermine the Houthi Ansarullah movement, which currently controls the capital, Sana'a, and other major provinces, and to restore power to Yemen's fugitive former President Abd Rabbuh Mansour Hadi, who is a staunch ally of Riyadh.
According to Yemen's Freedom House Foundation, the Saudi airstrikes have claimed the lives of about 4,000 Yemeni people so far while more than 6,887 others have been wounded.