Palestine
Saudi Arab
Saudi Arabia obstructs Israeli foreign minister's planned visit for UN meeting: Report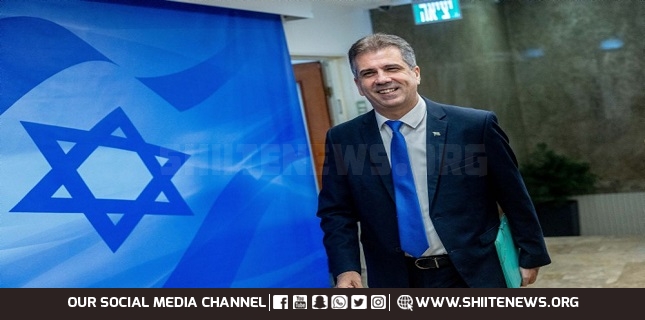 Saudi Arabia has reportedly ignored requests to "seriously discuss" security details for Israeli foreign minister Eli Cohen's planned visit to the kingdom, effectively blocking the trip.
The US-based news website Axios, citing three Israeli officials, reported on Monday that Saudi Arabia had initially approved a request for Cohen to enter the country to participate in a UN-sponsored tourism event in the kingdom.
However, when it was time to arrange his security detail, it "became clear that the Saudis weren't going to have a serious discussion," and Cohen was forced to cancel his trip, the report said.
Cohen was scheduled to attend the event of "Best Tourism Villages" by the United Nations World Tourism Organization (UNWTO) this week, after the UN body included the name of the the Circassian village of Kfar Kama in the northern part of the occupied territories on an exclusive list of tourist destinations.
The two-day event is taking place in the northwestern Saudi city of al-'Ula, which Riyadh is working to promote as a tourism hub.
According to Axios, Israel lobbied the UNWTO and the administration of US President Joe Biden to press the Saudis to allow Cohen to attend the UN event.
"Eventually the Saudis found a way to say 'yes' to the UN as they had to, but at the same time create conditions that won't allow the visit to happen," a senior Israeli official told Axios.
Cohen's trip would have marked the first public visit by an Israeli minister to Saudi Arabia.
Saudi Arabia has also refused to issue entry visas to the Israeli delegation consisting of Kfar Kama's residents that had been invited to partake in the event.
The move was regarded as a sign that Israel's hopes of warming relations with Saudi Arabia may be premature. It also showed that despite reports of diplomatic efforts between Israel and Saudi Arabia and their desire to normalize ties, the reality on the ground seems to be completely different.
Israel and Saudi Arabia do not have official diplomatic relations. But in 2020, Benjamin Netanyahu reportedly paid a secret visit to Riyadh in his capacity as then Israeli regime's prime minister, meeting there with Saudi Crown Prince Mohammed bin Salman.
The latest development came a few days after the kingdom and Iran reached an agreement to resume their diplomatic relations through a deal mediated by China.
The thawing of relations between Tehran and Riyadh has irked numerous current and former Israeli officials, who have frowned on the matter as a fatal blow to Tel Aviv's regional schemes and sphere of influence.