Saudi Arab
Clashes between Saudi forces and Ansarullah fighters, 2 Saudi soldiers killed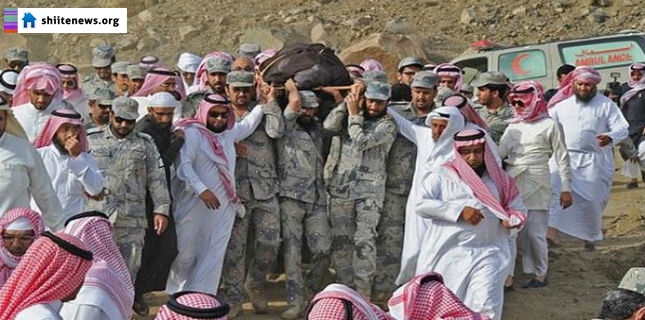 An exchange of fire between Saudi security forces and Yemen's Ansarullah fighters has claimed the lives of two Saudi soldiers on the kingdom's border with Yemen as resistance against the Saudi aggression on the Arabian Peninsula country continues.
Reports said on Friday night that Abdulrahman al-Qahtani and Mohammed al-Harbi were killed during a shootout between the regions of Najran and Asir near the Yemeni border.
Saudi Director General of Border Guard Admiral Awad bin Eid al-Balawi confirmed the deadly incident, the reports added.
On Thursday, a Saudi soldier was killed and 10 others were wounded in a similar exchange of fire across the Yemeni border.
A Saudi Interior Ministry statement on Thursday said that the Border Guards at a post in the kingdom's southwestern Asir region came "under fire from a mountainous interior zone," the official Saudi Press Agency reported.
The Thursday incident came more than a week after Saudi Arabia started its aggression through airstrikes against its southern neighbor, with the dead and injured soldiers being its first casualties since Riyadh started the war against the Ansarullah revolutionaries of the Houthi movement.
Saudi Arabia's air campaign in Yemen started on March 26 in a bid to restore power to fugitive former Yemeni president, Abd Rabbuh Mansur Hadi, a close ally of Riyadh.
UN Under-Secretary General for Humanitarian Affairs Valerie Amos said in a statement on Thursday at least 519 people, including women and children, have so far lost their lives in two weeks of violence in Yemen, as Saudi Arabia's airstrikes continue unabated.
She added that 1,700 people have been also wounded during clashes between rival groups in Yemen and due to the Saudi strikes against the country.
The UN official said 90 children are among the victims of the violence and expressed concern "for the safety of civilians caught in the middle."
Hadi stepped down in January and refused to reconsider the decision despite calls by the Houthi Ansarullah movement.
However, the Ansarullah movement later said Hadi had lost his legitimacy as president of Yemen after he escaped Sana'a to Aden in February.
On March 25, the embattled president fled the southern city of Aden, where he had sought to set up a rival power base, to the Saudi capital, Riyadh, after Ansarullah revolutionaries advanced on Aden.
The Ansarullah fighters took control of the Yemeni capital in September 2014 and are currently moving southward. The revolutionaries said Hadi's government was incapable of properly running the affairs of the country and containing the growing wave of corruption and terror.