Saudi Arab
Observers surprise Saudi Sheikh Aloadah inciting sectarian war against Shia , instead call for unity !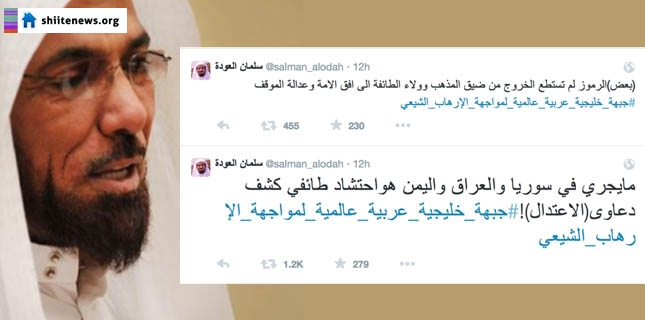 Sheikh Salman Aloadah who is member of Global islamic unity of scholars headed by Yousif Alqaradawi started spreading hatred speech against Shia instead of unity between muslim brother . Then Saudi activists launched on the social networking "Twitter" site Hashtag calls to form a " united front with the Gulf countries , the Arab and Islamic countries, aims to stop what they called Shia terrorism.The hashtag was "Gulf Arab front to confront the global Shia terror" significant interaction of prominent personalities Gulf, expressed the seriousness of the delay in forming such a front.
The Saudi known Islamic thinker Dr. Sheikh Salman Alodah started his account in Twitter: "What is happening in Syria, Iraq and Yemen is rallying sectarian revealed moderation lawsuits," he added, "some symbols have not been able to get out of a narrow doctrine and loyalty of the community to the horizon of the nation and the fairness of the situation."
Observers was surprised where is the time to call for unity against Takfiris , you hear such call from scholars who suppose to guide youths to the right way of Islam . Sheikh Salman was prevented from traveling out side Saudi due to his call to youth to go and fight in Syria. He denied that .