Saudi Arab
Pentagon chief calls MBS to reaffirm 'strategic defense partnership'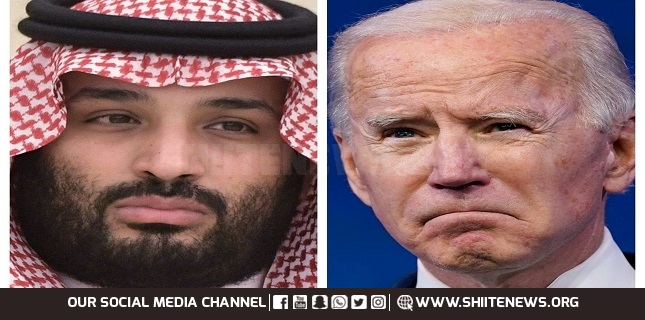 Saudi Crown Prince Mohammed bin Salman – the de facto leader of Saudi Arabia and the kingdom's defense minister – has received a phone call from Pentagon chief Lloyd Austin weeks after the new US administration took office.
"Secretary Austin reiterated recent changes in US policy toward the Saudi-led coalition in Yemen, discussed the importance of ending the war, and thanked the crown prince for Saudi Arabia's commitment to a political settlement," said the readout of the call.
According to the Pentagon, Austin called the crown prince, known as MBS, Thursday to reaffirm the "strategic defense partnership" between the United States and the kingdom of Saudi Arabia.
"He underscored Saudi Arabia's role as a pillar of the regional security architecture in the Middle East and the importance of sharing the responsibility of regional security and stability," it added.
The call came a week after White House press secretary Jen Psaki said no call had been planned between US President Joe Biden and MBS after the new administration said it was allegedly reviewing the US policy toward Riyadh.
"Well, obviously, there's a review of our policy as it relates to Saudi Arabia," Psaki said at a daily press briefing on February 12, when she was asked if Biden was willing to "even pick up a phone and talk with MBS of Saudi Arabia", given the Saudi crown prince's involvement in the killing of journalist Jamal Khashoggi in the Saudi consulate in Istanbul on October 2, 2018.
"There's not a call planned that I'm aware of, but I can speak with our team if there's something more significant than that to report," she said.
Psaki also said on Tuesday that the White House was going to "recalibrate" its relationship with Saudi Arabia, and engage with the kingdom on a counterpart-to-counterpart basis.
"The President's counterpart is King Salman," she emphasized, "and I expect that, in appropriate time, he would have a conversation with him. I don't have a prediction of the timeline on that."
On his campaign trail before the November 3 presidential election, Biden emerged as an outspoken critic of MBS's Saudi Arabia, saying he would make the kingdom "the pariah they are" and stop selling weapons if he was elected.
The White House announced earlier this month that the administration was ready to release a report detailing its understanding of who was responsible for the Khashoggi murder. The CIA has already concluded that MBS was behind the killing, partly due to his absolute control over Saudi affairs.
The Biden administration has also claimed that it would suspend weapons sales to Saudi Arabia, which has been leading the ongoing war on Yemen since 2015.
The weapons sales had been authorized by former President Donald Trump, who courted MBS and overlooked Saudi war crimes in Yemen and the kingdom's rampant human rights violations at home and abroad, including the high-profile killing of Khashoggi.