Saudi Arab
Prominent Saudi women's rights activist freed after nearly 3 years in jail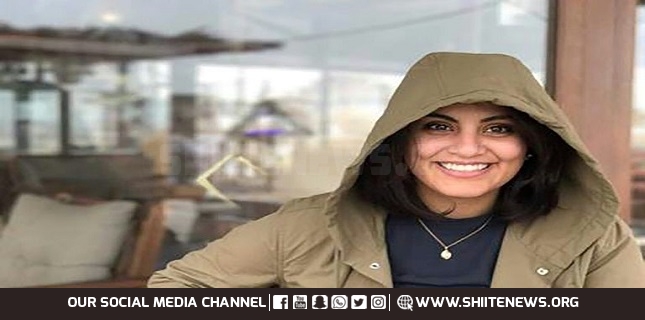 Saudi authorities have released prominent women's rights activist Loujain al-Hathloul after nearly three years behind bars, as a crackdown led by Crown Prince Mohammed bin Salman against rights campaigners and intellectuals widens in the ultra-conservative kingdom.
The release of the 31-year-old activist, who is still under probation and is barred from leaving Saudi Arabia, sparked euphoria among her siblings, who had launched a vigorous campaign overseas for her freedom in a major embarrassment for the kingdom's rulers.
"Loujain is at home!!!!!!!" her sister Lina wrote on Twitter on Wednesday.
"At home after 1,001 days in prison," she added, along with a picture of the smiling activist with streaks of grey hair.
Another sister, Alia, said in a separate post that the women's rights activist was at their parents' home in Saudi Arabia, adding, "This is the best day of my life."
Lina later thanked supporters on Twitter, but said while Loujain is at home, "she is not free."
"The fight is not over. I am not fully happy without the release of all political prisoners," Lina tweeted.
Saudi authorities have not officially commented on her detention, trial or release.
"Loujain al-Hathloul's release after a harrowing ordeal in prison in Saudi Arabia — lasting nearly three years — is an incredible relief, but long overdue," said Lynn Maalouf, Director of Research for the Middle East at Amnesty International.
She added, "Nothing can make up for the cruel treatment she has suffered, nor the injustice of her imprisonment."
Back on December 28 last year, the Saudi pro-government Sabq online newspaper reported that the so-called Specialized Criminal Court (SCC) in the capital, Riyadh, had sentenced Hathloul to five years and eight months in prison after she was convicted of "various activities prohibited by the [kingdom's] anti-terrorism law."
The report added that the court had suspended two years and 10 months of the sentence "if she does not commit any crime" within the next three years.
Hathloul was among more than a dozen activists arrested in May 2018, and held on suspicion of harming Saudi Arabia's interests and offering support to hostile elements abroad.
At the time, international rights groups reported the detention of prominent female campaigners among the detainees, who had previously campaigned for the right to drive and an end to the kingdom's male guardianship system.
Some were later released, but activists have said several of the women were held in solitary confinement for months and faced torture and sexual harassment.
Saudi Arabia overturned the world's only ban on female motorists on June 24, 2018. The lifting of the prohibition followed a sweeping crackdown on prominent women's rights activists, who had staunchly advocated for the right to drive.
Saudi authorities have arrested dozens of activists, bloggers, intellectuals and others perceived as political opponents ever since Crown Prince Mohammed bin Salman became the kingdom's de facto leader in 2017, showing almost zero tolerance for dissent even in the face of international condemnations of the crackdown.