Palestine
Palestinian Islamic Jihad leader meets Iran Parliament Speaker in Tehran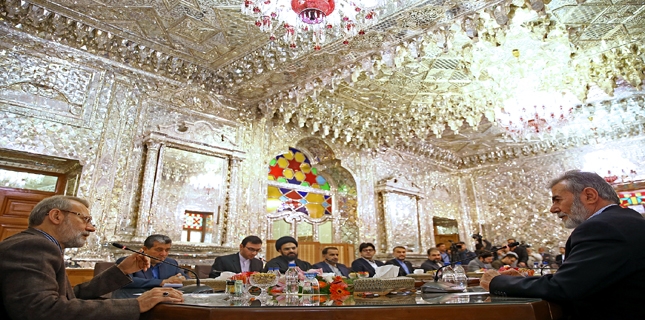 Secretary General of the Palestinian Islamic Jihad resistance movement, Ziad al-Nakhala, and his accompanying delegation met Iranian Parliament Speaker Ali Larijani in Tehran where Larijani said that support to Palestine would boost security in the region amid US and Israeli efforts to undermine the resistance front.
"Supporting Palestine will help increase security in the region and the Islamic Republic will always back the Palestinian nation and the cause of resistance," Larijani said during a meeting with the said delegation.
"Under the current circumstances, the US and the Zionist regime (Israel) follow a strategy of countering and hindering the axis of resistance. But measures and initiatives by Palestinian people such as the Great March of Return foil such acts," Larijani said.
He said supporting resistance was the only way to counter enemies, calling for other initiatives like the Greta March of Return to contribute to the goal.
The top Iranian parliamentarian criticized certain Arab countries for taking steps to officially normalize ties with Israel and rebuked other Arab states for remaining silent, saying such an approach would undermine the Palestinian cause.
Iranian Parliament Speaker Ali Larijani (C) meets with a Palestinian delegation headed by the secretary general of the Palestinian Islamic Jihad resistance movement, Ziad al-Nakhala, in Tehran on January 2, 2019. (Photo by ICANA)
For his part, the Palestinian official praised Iran's support for the Palestinian nation, saying the Islamic Republic backed Palestine at a time when several Arab countries were normalizing ties with Israel.
He said that today the axis of resistance enjoyed great capacities and was in possession of means to counter Israel's acts of aggression.
"Undoubtedly, the axis of resistance will emerge victorious in the region and this front will counter any act of aggression through coherence," he said.
Tensions have been running high near the fence separating the besieged Gaza Strip from the Israeli occupied territories since March 30, 2017, which marked the start of a series of protests dubbed "The Great March of Return." Palestinian protesters demand the right to return for those driven out of their homeland. The clashes in Gaza reached their peak on May 14 last, the eve of the 70th anniversary of Nakba Day, or Day of Catastrophe, which coincided this year with Washington's relocation of the US embassy from Tel Aviv to occupied Jerusalem al-Quds. More than 190 Palestinians have so far been killed and over 20,000 others wounded in the renewed Gaza clashes, according to the latest figures released by the Gaza Health Ministry.