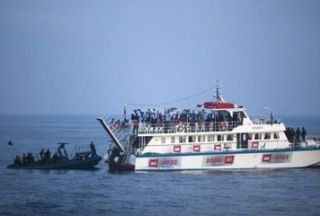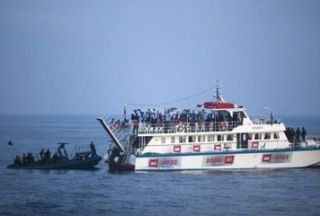 Israel has jailed 487 international activists captured during its deadly commando strike on a Gaza aid convoy, while 48 others are to be "expelled." 
Those detained remain in custody at the southern Israeli prison of Ashdod, while the other 48 will be taken to Ben Gurion international airport to be sent back to their home countries, AFP quoted a report by Israel's public radio as saying on Tuesday. 
The international activists were interrogated by Israeli police on Tuesday, a day after the Gaza-bound flotilla they traveling on was stormed by Israeli forces in international waters, 150km (90 miles) from Gaza. 
The pre-dawn attack left up to 20 people killed, according to al-Aqsa TV channel, and some 50 others injured who are being treated in Israeli hospitals.
The fatal operation drew widespread condemnation from the international community and prompted countries around the world to summon Israeli ambassadors to ask for explanation. 
The UN Security Council convened in an emergency session to discuss Israel's attack on the flotilla, with most members of the 15-nation body calling for a thorough investigation. 
There were many Turks among the 700 activists accompanying the six-ship convoy. The international campaigners also included Israelis and Palestinians as well as Americans and many Europeans — among them politicians, a Jewish Holocaust survivor and Swedish author. 
Israel is holding the detainees under severe media censorship and actually cut off from the outside world, ensuring no contradiction of its version of Monday's events. 
Tel Aviv insists that nine activists were killed in the naval attack on a Turkish cruise ship, which Israeli Prime Minister Benjamin Netanyahu justified as an act of "self-defense." 
Gaza Freedom Flotilla was carrying more than 10,000 tons of humanitarian aid to break the years-long siege of the Gaza Strip, which has pushed the coastal sliver on the verge of starvation.