Palestine
Hamas blasts US for vetoing UN resolution on Jerusalem al-Quds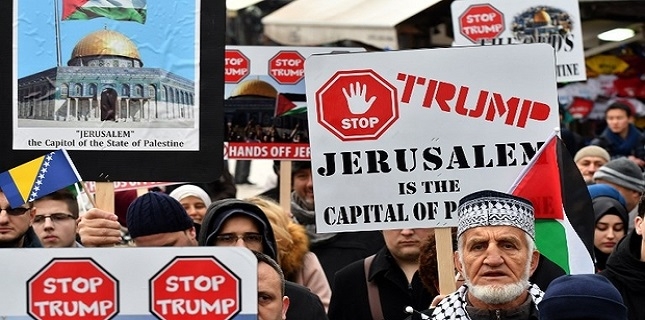 The Palestinian resistance movement, Hamas, has blasted Washington for vetoing a UN Security Council resolution aimed at voiding US President Donald Trump's move on Jerusalem al-Quds, saying the Israeli-occupied city is the "eternal capital" of the state of Palestine.
Earlier this month, Trump said the US was recognizing Jerusalem al-Quds as the "capital" of Israel, and said he had tasked the State Department with making preparations for the relocation of the embassy from Tel Aviv to the city.
The move has sparked international outrage and pro-Palestinian protests.
The White House used its veto power for the first time at the UN Security council on Monday to torpedo an Egypt-drafted resolution critical of Washington's unilateral recognition, which had the backing of the other 14 members of the council, several of them the US and Israel's key allies.
In response, Hamas issued a statement, saying Jerusalem al-Quds is the "eternal capital" of the state of Palestine, and that such American or Israeli decisions cannot change this fixed reality.
The statement said the resistance movement would use all means at its disposal to prevent Trump's decision from taking effect.
The movement further called on the international community to take action against any measure aimed at changing the status quo of Jerusalem al-Quds.
Hamas warned that the Tel Aviv regime would pay the price for taking any step against Jerusalem al-Quds and Muslims' sanctities.
Along with Hamas, officials of the Ramallah-based Fatah movement also censured the US for blocking the resolution.
The Palestinian president's spokesman Nabil Abu Rudeineh said in an official statement that the US veto "violates the legitimate international resolutions and the resolutions of the Security Council. It's a full bias to the occupation and to the aggression."
He said the veto "leads to more isolation of the United States and will provoke the international community," adding "we will carry on with our moves in the UN and all other international agencies to defend our people's rights."