Palestine
Israeli army withholding bodies of martyred resistance fighters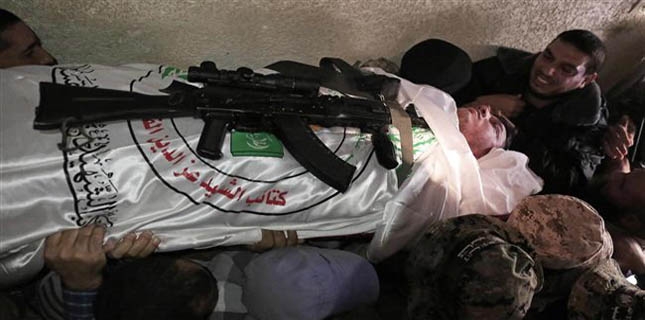 The Israeli military says it is withholding the bodies of five resistance fighters, which were recovered after Israeli fighter jets bombarded and destroyed a lifeline tunnel in the southern part of the besieged Gaza Strip.
"We are indeed in possession of those bodies … All were killed or died inside Israeli territory, not in the Gaza Strip," Israel's military spokesman Jonathan Conricus told AFP on Sunday.
At least twelve Palestinian men lost their lives after Israel blew up the tunnel on October 30.
Two of them belonged to the Ezzedeen al-Qassam Brigades, the military wing of the Hamas resistance movement, while the rest were from al-Quds Brigades, which is the military wing of Islamic Jihad movement.
Following the attack, Palestinians gathered in front of al-Aqsa Martyrs Hospital in Khan Yunis in protest at Israel's act of aggression.
The tunnel, which was still under construction, reportedly belonged to Hamas and infiltrated into the heart of occupied Palestinian territories.
Meanwhile, the Israeli minister of military affairs Avigdor Lieberman has stated that the decision on what to do with the bodies would be taken by Israel's security cabinet, on which he sits.
"This is not a legal issue, this is a political and security issue, and if there is disagreement it will be resolved in the security cabinet and not in any other forum," he said on Israeli television on Sunday.
Israeli media outlets says the Gaza resistance fighters' bodies would most likely be retained as bargaining chips to retrieve the remains of two Israeli soldiers killed in the 2014 Gaza war.
Israeli officials claim that three settlers, who are all said to be mentally unstable, are also believed to have entered the Gaza Strip, and are being held by Hamas.
Tunnels are the only lifeline for Palestinians living under the Israeli siege and Egypt has so far destroyed hundreds of them.
Israel and the Egyptian military have launched a campaign to destroy the tunnels, preventing the people in Gaza from bringing most of their basic goods like construction materials, food, and fuel into the coastal enclave.
The Gaza Strip has been under an Israeli siege since June 2007. The blockade has caused a decline in the standards of living as well as unprecedented levels of unemployment and unrelenting poverty.
The Israeli regime denies about 1.8 million people in Gaza their basic rights, such as freedom of movement, jobs with proper wages as well as adequate healthcare and education.