Palestine
ICRC asked to save hunger-striking Palestinians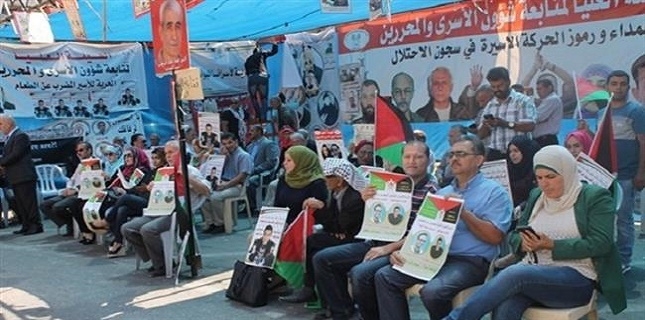 Palestinians have staged sit-ins in the occupied West Bank to call on the International Committee of the Red Cross (ICRC) to save the lives of inmates on hunger strike at Israeli prisons.
Scores of people gathered outside the ICRC office in the central West Bank city of al-Bireh on Wednesday, waving national Palestinian flags.
They held pictures of Muhammad and Mahmoud Balboul, who have been on hunger strike for 62 and 66 days respectively in protest at Israeli detention of Palestinians without trial for renewable six-month periods.
The protesters also censured the humanitarian institution for inaction and its failure to save the lives of the two hunger-striking Palestinians.
Elsewhere in Ramallah, people took part in a sit-in organized by the Palestinian Committee of Prisoners' Affairs to show their solidarity with Balboul brothers.
Protester Adnan Damari said the sit-in sought to "reaffirm our outright rejection of the Occupation's (Israel's) policy of administrative detention against Palestinians."
Damari urged the ICRC to intervene in the case of Balboul brothers, holding Israeli authorities responsible for their deteriorating health conditions.
He said Israeli policies would not break down the Palestinian prisoners' determination to "fight for freedom."
There are reports that Muhammad Balboul has lost his eye sight.
Balbul brothers, who have been in Israel's Ofer prison in the occupied West Bank since June 9, began their hunger strikes on July 4 and 7 respectively.
Muhammad, a dentist, was given a six-month administrative detention, while Mahmoud, a Master's student at the al-Quds University, has to spend five months in prison.
There are reportedly more than 7,500 Palestinians held at Israeli jails. Some 700 of these inmates have apparently been incarcerated under the practice of the administrative detention. Some Palestinian prisoners have been held under the administrative detention for up to eleven years.