Palestine
Israeli forces raid, shut down Palestinian radio station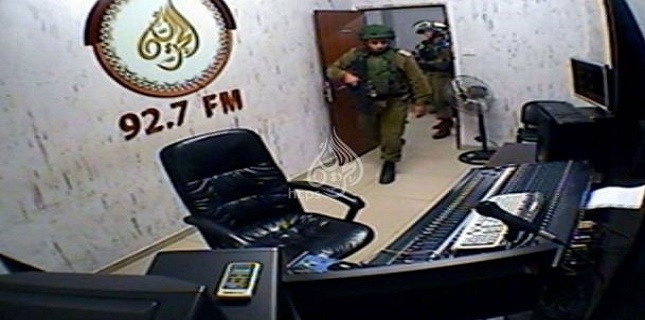 Israeli officials have stormed the office of a Palestinian Arabic-language radio station and taken it off the air over what they described as its attempts to further escalate tensions in the occupied West Bank.
On Wednesday morning, Israeli military forces raided the office of Radio Sanabel in the town of Dura, southwest of the city of al-Khalil (Hebron), ransacked the building, and confiscated the radio's broadcasting equipment, Arabic-language al-Ahed news website reported.
The Israeli forces later army arrested the director general of the radio station, Ahmad Samih Daravish, along with three other colleagues.
They also ordered Radio Sanabel to be shuttered for at least three months after accusing it of "spreading hatred" against the Tel Aviv regime.
Separately, fierce skirmishes broke out between a group of young Palestinian men and Israeli soldiers as the latter raided the Nur Shams refugee camp, located three kilometers (1.8 kilometers) east of the northwestern West Bank city of Tulkarm.
There were no immediate reports of arrests or casualties among Palestinian protesters.
Israeli forces also arrived on board military vehicles in the Palestinian Christian town of Beit Jala, located 10 kilometers (6.2 miles) south of Jerusalem al-Quds, early on Wednesday, prompting protests.
In a separate development, Israeli military forces on Tuesday tore down three houses in the occupied East Jerusalem al-Quds, leaving at least five Palestinians homeless.
Bulldozers, heavily escorted by Israeli troops and police officers, entered the Sur Baher neighborhood on the southeastern outskirts of East Jerusalem al-Quds and demolished a house they said had been built without a license.
Elsewhere, in the predominantly Palestinian neighborhood of Silwan on the outskirts of the Old City of Jerusalem al-Quds, Israeli troops demolished two Palestinian houses under construction.
The occupied territories have witnessed new tensions ever since Israeli forces introduced restrictions on the entry of Palestinian worshipers into the al-Aqsa Mosque compound in East Jerusalem al-Quds in August 2015.
At least 236 Palestinians have lost their lives at the hands of Israeli forces in the tensions since the beginning of last October. The violence has also killed at least 32 Israelis, two Americans, an Eritrean and a Sudanese.