Palestine
11 Palestinians hurt in clashes with Israeli soldiers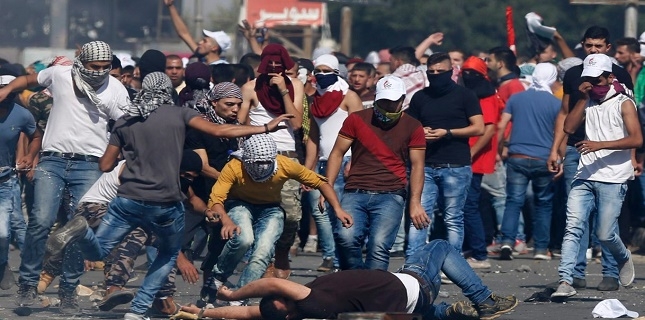 At least five Palestinians have sustained injuries in clashes with Israeli military forces in the central part of the occupied West Bank.
Local sources, speaking on condition of anonymity, said Israeli soldiers raided a number of houses in the city of Bethlehem, located about 10 kilometers (6.2 miles) south of Jerusalem al-Quds, to arrest several Palestinian men early on Tuesday, Arabic-language al-Aqsa television network reported.
Scuffles erupted when several Palestinian youths hurled stones at Israeli troopers, who fired rubber-coated steel bullets, tear gas canisters and stun grenades to disperse the crowd. Five people, including a woman and her little daughter, were injured during the mayhem.
Separately, Israeli military forces carried out overnight raids against several Palestinian houses across the West Bank and detained at least 15 people.
Israeli soldiers also arrested Salim Yousef al-Rajoub in the town of Dura, located 11 kilometers (608 miles) southwest of al-Khalil (Hebron) in the raid on his house.
A Palestinian man was arrested in the city of ad-Dhahiriya, situated 23 kilometers (14.2 miles) southwest of al-Khalil, while the rest were rounded up in other districts of al-Khalil.
Early on Tuesday, a large number of illegal settlers, accompanied by Israeli military soldiers, stormed Joseph's Tomb on the outskirts of Nablus, desecrating the site venerated by Jews, Christians and Muslims.
Palestinian security sources and local residents said the settlers arrived at the site on board a number of buses, and broke into the tomb amid protection by Israeli troopers.
Shortly afterwards, skirmishes broke out between a group of Palestinian youths and Israeli forces in the vicinity of the tomb. No reports about the exact number of casualties were immediately available.
The occupied territories have witnessed fresh tensions ever since Israeli forces restricted the entry of Palestinian worshipers into the al-Aqsa Mosque compound in East Jerusalem al-Quds in August 2015.
More than 230 Palestinians have lost their lives at the hands of Israeli forces in the tensions since the beginning of last October.