Palestine
Palestinians hold funeral for teenager killed by Israelis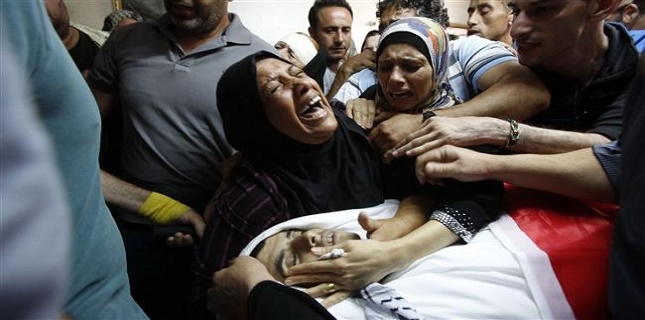 People have attended a funeral procession for a Palestinian teenager who was shot dead by Israeli forces in fresh scuffles at a refugee camp in the occupied West Bank.
The mourners gathered outside the family house of 17-year-old Muhammad Abu Hashhash in Fawwar camp, located south of the city of al-Khalil, aka Hebron, on Wednesday.
The funeral turned violent as Israeli troops fired tear gas at the mourners. However, there has been no report of casualties so far.
The Palestinian Ministry of Health said Abu Hashhash was fatally shot in the chest in Tuesday's clashes with the Israeli soldiers, who were reportedly conducting searches at the refugee camp. The confrontations also left 45 other Palestinians injured.
The violence broke out after Israeli forces stormed the camp, ransacked homes, interrogated residents and positioned snipers on the rooftops of Palestinian houses.
The Israeli troops further fired live gunshots, tear gas, and rubber-coated steel bullets at Palestinian youths, who responded by throwing stones and Molotov cocktails.
Meanwhile, witnesses told the Palestinian Ma'an news agency that medics were prevented from accessing the site while an ambulance belonging to the Palestinian Red Crescent was stopped from leaving the camp for an hour.
Several residents of the Fawwar camp said that the Israeli soldiers destroyed their belongings and stole money and gold while searching their houses during Tuesday's raid.
At least three Palestinians were also detained, including a father and son, after the regime forces claimed to have found a broken gun in their house.
The Palestinian Fatah movement declared a day of mourning on Wednesday and ordered the closure of all government and private institutions as well as stores in southern al-Khalil.
The Israeli forces routinely storm Palestinian towns, villages, and refugee camps in the West Bank, with a weekly average of 78 search and detention raids carried out so far in 2016, according to latest UN figures.
The occupied territories have been the scene of heightened tensions since August 2015, when Israel imposed restrictions on the entry of Palestinian worshipers into the al-Aqsa Mosque compound in East Jerusalem al-Quds in an alleged bid to change the status quo of the Muslim site.
More than 230 Palestinians, including children and women, have lost their lives at the hands of Israeli forces in what is regarded as the third Palestinian Intifada (uprising) since the beginning of last October.