Palestine
Israel forces kill even more Palestinians on 'Day of Rage'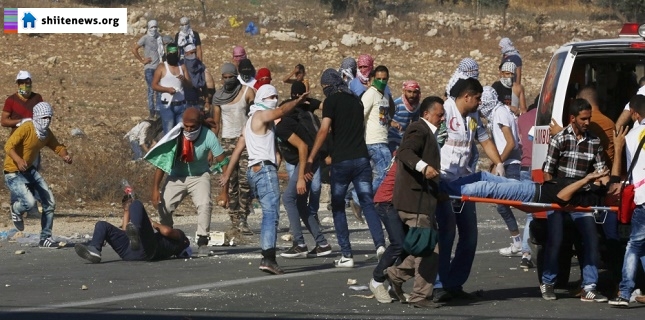 Israeli forces have shot and killed more Palestinians in the occupied territories as tensions between the two sides reach a climax on the "Day of Rage" declared by Palestinian groups.
The Israeli troops gunned downed a Palestinian during clashes at the entrance of the city of Bethlehem in central occupied West Bank on Tuesday.
The forces also killed two Palestinians following a shooting attack on a bus in Armon Hanetziv area in the occupied East al-Quds (Jerusalem).
Earlier in the day, a Palestinian man was shot dead after he allegedly killed an Israeli in a run-over attack in al-Quds.
Reports said several retaliatory attacks were carried out by the Palestinians in Tel Aviv and al-Quds. Protesters in Qalandiya checkpoint near the city of Ramallah set tires on fire and clashed with Israeli forces.
A similar protest was held in Beit Hanun in the blockaded Gaza Strip, with reports saying that five Palestinians were injured with one in a critical condition. Witnesses said Israeli forces opened fire on dozens of protesters from military towers close to the northern city in Gaza. Other sources, however, said more than 30 people were injured in the demonstration.
The Gaza-based Palestinian resistance movement Hamas, along with Fatah movement in the occupied West Bank and other major factions in Palestine, said Israel is deliberately "escalating its crimes" against the Palestinians and declared a "Day of Rage" on Tuesday across the West Bank, Gaza and East al-Quds.
The Palestinian Health Ministry updated its fatality figure of the Israeli attacks, saying 29 Palestinians, including nine children, have been killed and hundreds injured since the Tel Aviv regime began a harsh crackdown in early October on the Palestinians enraged by the settler violence and a plan by Israelis to change the status quo of the al-Aqsa Mosque. Of that figure, 11 have been killed in Gaza.
International condemnations have poured in over the Israeli crackdown, with some observers warning that Tel Aviv's provocations could open the door to a new Intifida against the regime.
Meanwhile, Sami Abu Zuhri, a spokesman for Hamas, welcomed the heroic acts of Palestinians in the West Bank.
Khaled al-Batash, another official in Gaza's Islamic Jihad movement, said Israeli forces and settlers will face a huge climate of insecurity if they refuse to "recognize the rights of the Palestinians."