Palestine
Israeli interrogators physically, psychologically tortured Palestinian woman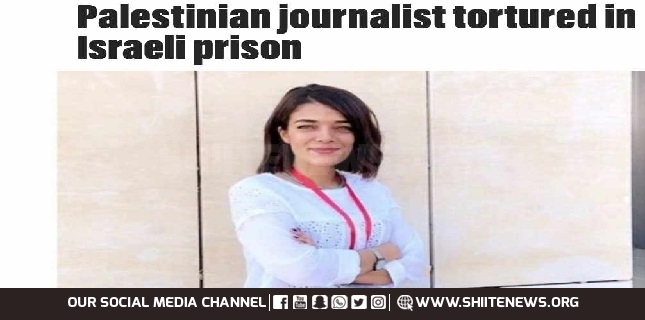 A young Palestinian woman has shared the horrific story of how she endured excruciating physical and psychological torture in an Israeli jail, saying that there are many Palestinian women with a similar condition behind bars.
In a two-minute video posted on Twitter by a human rights advocacy group, 22-year-old Mays Abu Ghosh, a university student, said after being 15 months behind bars that the prison authorities had told her, upon detention, that she would not be the same when she left the jail.
'You'll either leave while paralyzed, or you'll end up at a psychiatric hospital.'
Abu Ghosh was detained in August 2019 over a charge of membership in the left-wing Democratic Progressive Student Pole, a student bloc banned by Israel. She was also accused of contributing to a news agency allegedly affiliated with Lebanon's Hezbollah resistance movement.
The young woman said she had endured long brutal interrogations and physical abuse by Israeli forces.
"I spent three days under military investigation, which included psychological and physical torture," Abu Ghosh said.
Israeli officers would cover her eyes with a black blindfold, she added, and she was not allowed to sleep for very long hours.
"They didn't let me sleep for three days before the military interrogation."
They would, she went on recounting, deliberately speak in a low voice while I was suspended on a chair so I could fall asleep. And when I dozed off, I'd be slapped on my face.
"When the interrogator would remove the blindfold, she would say 'I hit you so much on your left side. What do you think of hitting you on your right side.'"
The Palestinian prisoner stressed that the interrogators and prison officers took pleasure in torturing her.
The interrogators would also force Abu Ghosh into stress positions for hours.
The stress position that "they used on me was the squatting. So the person has to sit while squatting and she [the interrogator] would make me do the banana position."
The Addameer Prisoner Support and Human Rights Association, which advocates the rights of Palestinian inmates, has denounced the charges Israeli authorities leveled against the young Palestinian woman.
"Such a practice demonstrates the occupation authorities' criminalization of fundamental human rights through military orders," the group said in a statement.
Back in September, a group of Palestinian women also reported sexual abuse, including exposition to extreme frisks, by Israeli prison officials and interrogators at detention centers across the occupied territories.
More than 7,000 Palestinian prisoners are currently held in some 17 Israeli jails, with dozens of them serving multiple life sentences.
Over 350 detainees, including women and minors, are under Israel's administrative detention, which is a form of imprisonment without trial or charge, allowing authorities to incarcerate Palestinians for up to six months. The duration could be extended an infinite number of times.
The detention takes place on orders from a military commander and on the basis of what the Israeli regime describes as 'secret' evidence.
Some prisoners have been held in administrative detention for up to 11 years.
"My experience is a small part of the story of Palestinian prisoners. A small part of the injured women prisoners. There are so many experiences. There are so many young prisoners," Abu Gosh said.