Palestine
The forgotten Palestinian women locked in Israeli military prisons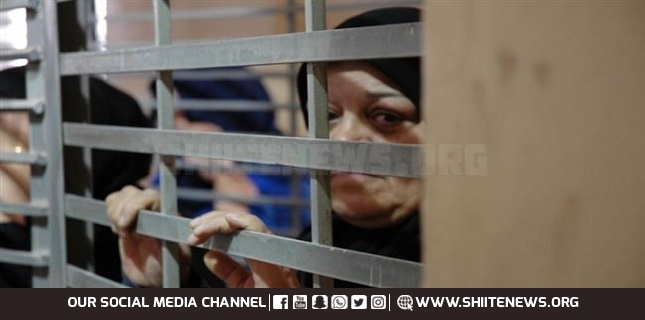 As the world marks the International Day for the Elimination of Violence Against Women, Female Palestinian prisoners are regularly subjected to cruel, inhumane and/or degrading treatment.
This mistreatment includes torture, denial of family visits, solitary confinement, medical negligence and the denial of education by Israeli occupation authorities.
The newly released former detainee, Suzan Al-Awawi, has described the conditions of the Palestinian female prisoners as "tragic", in large part because the occupation literally bullies them in jail.
Suzan tells us that the conditions of detention are very harsh, especially in the winter, in terms of the lack of bed covers and winter clothes; the poor quality and quantity of food, the prison floors and building itself. She also noted a lack of privacy for showering and little electricity, as well as the absence of a kitchen or library.
She explained that books that are intended to be sent in to prisoners are often blocked from entering the prisoners, with the number of books that are rejected from being far greater than greater than the number received by prisoners. On top of this, clothes sent by the families of the captives are often prohibited from entering the prisons, with batches coming only every three months.
Al-Awawi claimed that intimidation techniques are also used by the prison administration toward the female prisoners. It is known that if female prisoners are to react to the management practices of the prison guards, they are small in numbers and are easier to suppress than males. There is also immediate same-day extreme repression carried out, by the guards, to any female prison protest.
Al-Awawi also stated that there are several wounded prisoners in captivity, who suffer double the amount of regular prisoners, due to medical negligence and the fact that even simple treatment transfers take months.
One of the captives was even forced to deal with the pain of a molar tooth problem for a whole year before being transferred for treatment. The unnecessary and sadistic delay confirms that the prison administration is actively brutalizing the prisoners, even when it comes to matters of medical procedure, often by setting treatment transfers on the same date as a scheduled family visit. Prisoners will often choose to stay to see their families, allowing the Israeli authorities to then write in their files that they were "refusing treatment".
Solitary confinement and severe torture
For 15 consecutive days, so far, mother of five Fadwa Hamadah, 34 years old, has been incarcerated in solitary confinement, where she is deprived of all her rights. She was arrested by Israeli forces in August 2017 for allegedly attempting to stab Israeli soldiers. She was sentenced to 10 years in prison. Fadwa is a mother of five, the youngest of whom is a three-year-old. Her husband Monther Hamadah told us that his wife is kept in very inhumane conditions. He stated, "A month ago she was held in solitary confinement for defending her friend from Israeli jailer brutality against her…She is regularly subjected to this policy, and nobody acts to stop Israel nor does the media cover her story"."
In the past year, one of the most extreme cases of a female prisoner, subjected to torture and ill-treatment, was that of Mais Abu Gush. We know this only due to Mais having sent a message telling her family how she was humiliated and subjected to all kinds of torture.
Mais Abu Gush, 23 years old, is a fourth-year university student, studying Journalism at Birzeit University. She was detained on August 29, 2019, during a raid on her family's house, when a large number of heavily armed Israeli occupation forces, escorted by trained security dogs, brutally attacked. Abu Gush was then transferred to al-Maskobiyya interrogation center, and spent around one month there, where she was subjected to severe physical and psychological torture and ill-treatment, according to her lawyer. After around one month, Mais was finally presented with a list of charges, which included participating in university activities and coordinating a summer camp.
Health conditions in Israeli jails
There are currently eight injured female prisoners and twelve others suffering with medical conditions, all of whom suffer medical neglect. Some are in need of urgent surgeries and special medical care but instead are detained in harsh conditions that exacerbate their health conditions.
The only medicine given for treatment of any disease are painkillers. In addition, the prison administration denies access of medicines from outside the prison, whether from the prisoners' families or from Palestinian organizations. Sick detainees inside Israeli prisons live on painkillers and tranquilizers, according to 'Addameer', a Prisoners Support and Human Rights Association, with some prisoners becoming ill during their detention. It is also worth noting that during the global pandemic, of COVID-19, poses a significant threat, due to the poor living conditions inside the prison cells.
A 31-year-old Israa Jaabis, mother of one, is another example of Israeli brutality in their jails. She was arrested in October of 2015, while she was moving furniture to her new home in occupied Jerusalem (al-Quds). Her car exploded while she was using it to transport a gas cylinder, leaving her with severe burns and in need of urgent medical care. Instead, she was arrested and given an 11-year sentence for an alleged attempted car-bomb attack on Israeli forces. She was left so disfigured by the accident that when her eight-year-old son visited her in prison, he did not recognize her. Israa refused to meet her only son, since looking at him without being able to hug or even touch him, doubled her pain. Israa couldn't go to the bathroom without anyone helping her yet the Israeli authorities refused to allow her surgeries or even allow her family to pay.
Mother of five Nisreen Abu Kmail was detained in October 2015 and sentenced to six years. Her youngest child was only 8 months old and her eldest 11 years old. Since her arrest, her children have been prevented by Israeli authorities from visiting her. She suffers from cancer, as well as other illnesses, and all she gets are painkillers according to her family.
How the Israeli cells look like
The walls are very cold, the majority of the rooms are poorly ventilated, humid and infested with insects. The building is old, many of the closets are rusty from the humidity. There are no chairs in the rooms, and the prison administration prevents the women from covering the floor with blankets. Each room has a water heater, an electric stove, a TV, a radio, and an open toilet. The beds are bunk beds, leading to accidents as women fall from the beds that have sometimes resulted in fractures. The water is contaminated, obliging the women to buy mineral water from the prison "canteen" or shop. Even with the spreading of the Covid-19 in the male prisoner sections, several cleaning items are recently and deliberately missing from the Canteen, according to the Asra Information Office.
Female prisoners gather in a courtyard during breaks where they are monitored by two guards with cameras. This prevents them from exercising and running freely, as well as from being exposed to the sun, especially as the majority of women prisoners wear the hijab. The courtyard is not covered so that when it rains or the weather is too hot the women are deprived of even these few hours of fresh air. Prisoners are further prevented from sitting in groups, practicing handcrafting, or even having educational materials, such as books or pens.
According to Addameer, Israel has arrested over 16,000 Palestinian women since 1967.
These deliberately cruel actions increase both the female prisoners' psychological oppression and their medical maltreatment.