Palestine
1000s join funeral for Palestinian killed by Israel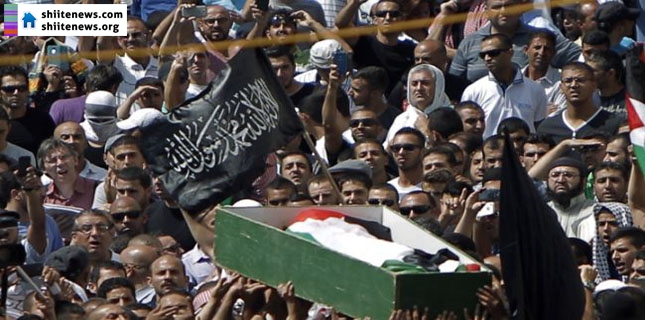 Thousands of mourners have gathered for the funeral of a 21-year-old Palestinian man slain by Israeli soldiers.
Mourners waved Palestinian flags and condemned Israeli crimes during Mohammad Imad Jawabra's funeral in the al-Arroub refugee camp in the occupied West Bank city of al-Khalil (Hebron) on Tuesday.
The mourners also called for an end to Israel's atrocities and demanded justice for Palestinian victims.
The Palestinian youth was shot in the chest and died shortly after arriving at a hospital earlier in the day.
A witness said that he and Jawabra were drinking tea on the roof of his house when a bullet hit the deceased in the chest.
An Israeli army spokeswoman said that around 200 Palestinian protesters had gathered in the area.
Also on Tuesday, a Palestinian youth was seriously injured after being shot by Israeli forces near the West Bank village of Khursa.
Earlier on Tuesday, clashes broke out between Israeli forces and Palestinians in the occupied West Bank after settlers destroyed dozens of cars belonging to Palestinians.
Meanwhile, Israeli forces raided overnight a number of Palestinian homes in several villages across the occupied West Bank, detaining nearly 60 people, including 10 children.
Most of those arrested were from the village of Kafr Kanna, where 22-year-old Khair al-Din Hamdan was recently killed by Israeli forces, triggering protests.
The occupied West bank has been the scene of violent clashes in recent weeks, with the Tel Aviv regime intensifying its crackdown on Palestinian protests.
Tensions have been also running high at the al-Aqsa Mosque compound in East al-Quds (Jerusalem) over the past few weeks, since Tel Aviv imposed new restrictions on the access of Palestinians to the mosque.