Pakistan
Pakistan Parliament Speaker concerned over tension in Persian Gulf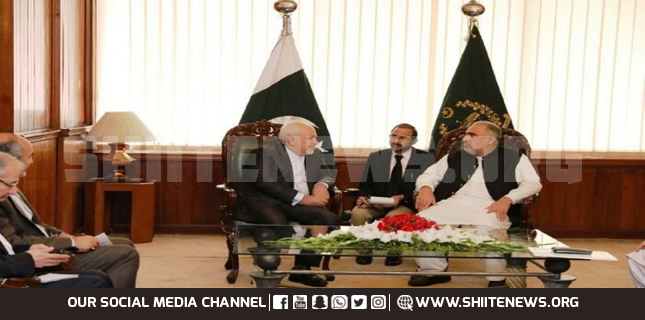 Pakistan Parliament Speaker concerned over tension in Persian Gulf which he said poses a threat to regional peace and stability.
He said this during a meeting with Iran's Foreign Minister Dr. Mohammad Javad Zarif, who called on him at the Parliament House during his official visit to Pakistan.
He welcomed the Iranian minister. He underlined the importance that both the people and government of Pakistan attached to its longstanding brotherly relations with Iran.
Speaker of Pakistan's National Assembly Asad Qaiser has stressed upon the need to forge unity among the Muslim Ummah.
The official statement said both sides deliberated upon ways and means to further intensify Pak-Iran relations.
The speaker urged all sides needed to exercise restraint. He said a solution may be found for amicable resolution within the framework of international law.
Asad Qaiser also reiterated Pakistan's support for the Joint Comprehensive Plan of Action (JCPOA). He said JCPOA serves as an excellent example of a negotiated settlement of complex issues through diplomacy and dialogue.
Referring to his interaction with his Iranian counterpart Ali Larijani, the speaker said there was a broader consensus to strengthen Pakistan-Iran ties by enhancing parliamentary interaction and cooperation.
The speaker also spoke on ongoing Pak-Iran cooperation in diverse sectors.
He maintained that immense economic potential remained untapped on both sides. He stressed the need to utilize it for mutual benefit.
Qaiser also expressed his satisfaction on the cooperation between law enforcement of the two countries, which had substantially led to a decrease in the insurgency, along both sides of the borders.
He further maintained that the military operation would continue until terrorism was exterminated from the Pakistani soil.
The Iranian Foreign Minister, in turn, thanked the speaker for his sentiments and held that Iran had a special affection for their Pakistani brethren.
He noted that continuous interaction between the political and parliamentary leadership from both countries would help further cement Pak-Iran relations.
Zarif also briefed the speaker on the role foreign countries were playing to implement the JCPOA. He continued that Iran would exercise restraint but not allow anyone to wage an economic war against its interests.
Zarif expressed confidence in the concerted efforts by all concerned countries. He hoped they would translate into a peaceful resolution of the ongoing crisis.
Muslim leaders should play their role for bringing Ummah on the same page to counter common threats and challenges, the Iranian minister asserted.
He thanked Pakistan for the diplomatic support it extended to Iran, regionally and internationally.
Speaker National Assembly Pakistan Iran