Pakistan
Homeless Orphan's of Parachinar stage protest demonstration
Dozens of orphans of those martyred by Taliban terrorists in Parachinar on Monday staged a protest demonstration in front of National Press Club Islamabad.
According to the Shiite News Correspondent, the innocent orphans were holding banners and placards inscribed the slogans "we want peace", why You (Taliban) killed my father", Save Parachinar" and chanted slogans against the criminal silence of the government and Pakistan Army on the genocide of Shia Muslims of Parachniar- Kurram Agency.
These orphans and students could not go to their homes in summer vacation due to closure of Peshawar to Parachinar road.
Expressing his views Qaiser Ali a student of class 7th said, " I can't go home like my other class mates and I am missing my home too much.
Mohammad Irshad of class 5th said, " I don't know why militants killed my loving father who was a peaceful person. Now I face financial problems in depositing my school fee.  He questioned that We don't know why our parents were killed? We are missing our homes, but can't go.
Syed Ibraheem of class 6th said " My father was kidnapped from Thall-Parachinar road near Lower Kurram (Bagan Village). He did not call me since the day he was kidnapped and said that he is missing his father.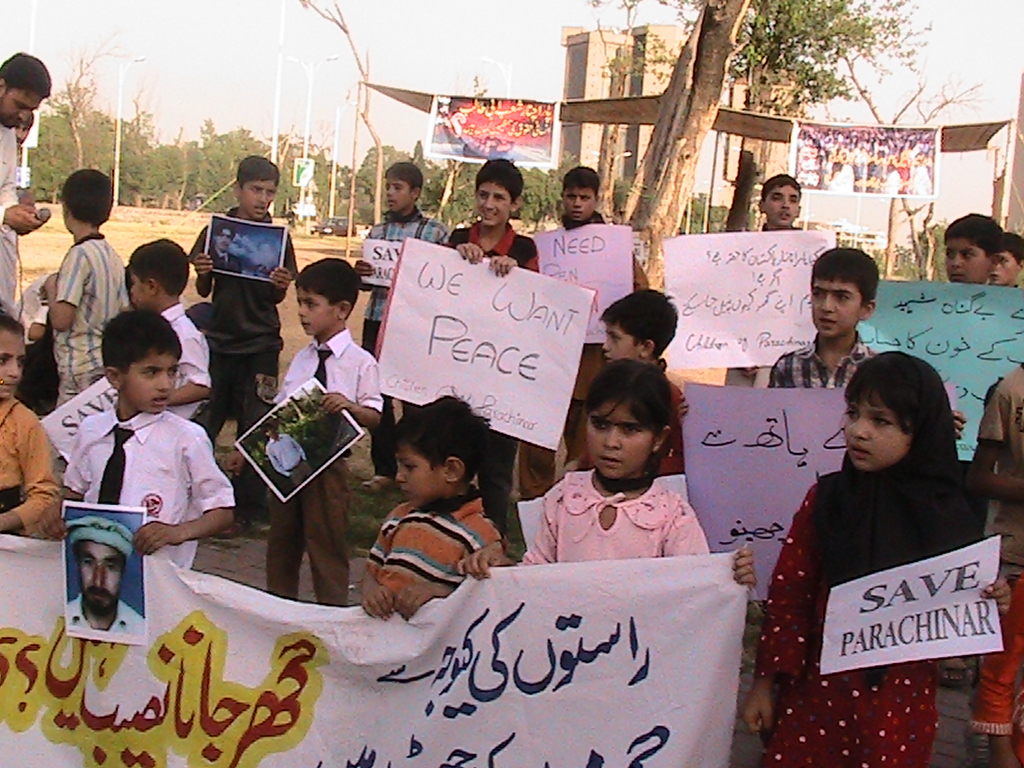 Cute Muzamil Hussain said that the Taliban are very bad as they even kill children. Perhaps the militants don't have their own kids.
They innocent orphans and children's  appealed to President of Pakistan Mr. Asif Ali Zardari, Prime Minister of Pakistan Mr. Yousaf Raza Gillani, Chief of Army Staff Mr. Gen Ashfaq Perviz Kayani, and Chief Justice of Pakistan Mr. Iftikhar Muhammad Chaudhary to help them and the people of Parachinar and immediately eliminate the besiege of Kurram Agency Parachinar by the Taliban terrorists.
These children said that they wants to go their homes to enjoy the summer vacations and to meet their relatives as well.
The homeless students requested the mentioned bodies to take joint action to resolve the Parachinar issue as soon as possible.