Pakistan
Pakistani Senate passes resolution against Jerusalem-related US decision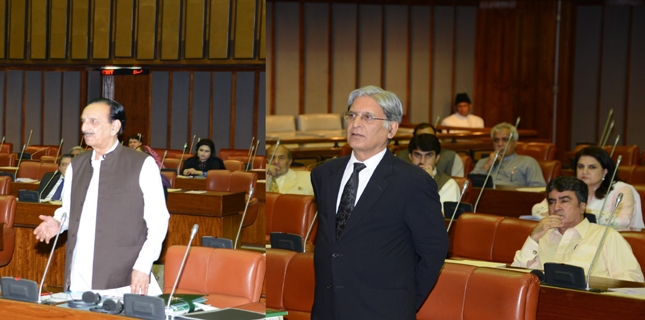 Pakistani Senate, the upper house of the bicameral parliament, has passed a resolution castigating President Donald Trump's announcement to recognize Jerusalem as the capital of Israel and shift the US embassy there from Tel Aviv.
The house suspended its normal agenda and held a debate in which 33 senators spoke for almost five hours before the resolution condemning Trump's action was adopted unanimously.
The resolution, moved by Leader of the House in Senate Raja Zafarul Haq, termed the announcement a flagrant violation of the International Law, the UN Security Council Resolutions specially Resolution Nos. 478 (1980) and 2334 (2016) and the international norms.
The house reiterated that any attempt to sabotage the peace process would be the darkest decision of the history.
The resolution appreciated the international community's rejection of the position taken by the US president, isolating the US at the international front.
The house also condemned killings of innocent citizens by the Israeli forces "which prove that the US decision is an aggression and a declaration of war on Palestinians". It also rejected Israel's sovereignty over all or any part of Palestine including Jerusalem and reaffirmed its full support, solidarity and commitment with the Palestinian brothers and sisters towards their just cause of freedom.
It urged the government to immediately convene a joint sitting of parliament to discuss the issue and to explain its policy and initiatives to be taken to address the grave and immediate challenge.
Senator Muhammad Ali Saif from the MQM gave examples where history was distorted and how some traitors among the Muslims facilitated creation of the Jewish state of Israel on the Arab lands.
Leader of Opposition Aitzaz Ahsan said it was unfortunate for the world that a man like Trump was elected president of the United States.
"I am not against Jews but I am against Zionism. I am not against Hindus but against Hindutva. I am not against Islam but pan-Islamism," he said.
Raja Zafarul Haq called for chalking out a strategy to face such challenges with the help of intellectuals in the Muslim world.
Senator Taj Haider of the PPP called for holding an international conference on the issue of Jerusalem, saying all the peace-loving people including the Americans should be invited to the moot as Trump's decision did not represent the sentiments of all the people.
In their emotional speeches, some members proposed boycotting the US products and tearing the US visas allotted to lawmakers in protest.