Pakistan
Chup Ta'azia processions brought out in many cities to mark last day of annual mourning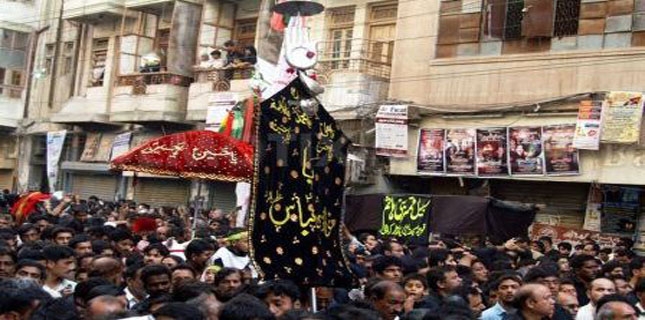 Traditional chup ta'azia mourning processions were held in many cities across Pakistan to mark the last day of annual Azadari that begins from the first of Moharram and continued till 8th of Rabi-ul-Awwal without any break in all the subcontinent, as per centuries old traditions.
The main Chup Ta'azia processions were brought out from Nishtar Park to Hussainia Iranian Imambargah in Kharadar, and another mourning procession was taken out from Old Rizvia Society and culminated at Imambargah Shah Najaf.
Similar processions were held in major cities of Pakistan including Hyderabad and historical Thatta city.
Millions of azadars (mourners) participated in these Azadari processions. Apart from alams, model coffins, camel processions were also held to depict the scene of the return of the Ahl-e-Bait (AS) when they were arrested and detained and travelled from Karbala to Damascus via Kufa.
Azadari is a sacred mourning in Shia Islam that is held to mourn the assassinations of infallible leaders of Islam particularly Imam Hussain (AS) and to condemn the tyrannies of the despotic regime.