Pakistan
Saudi military alliance likely to be launched in Riyadh on Sunday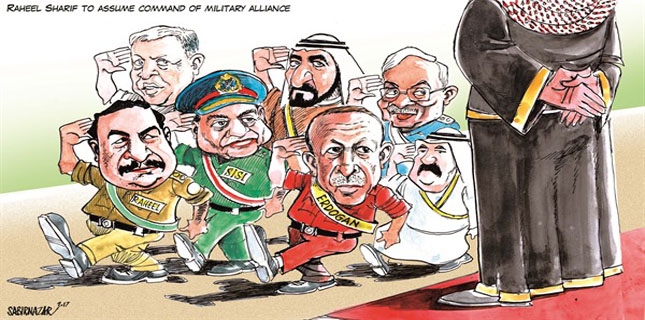 The self-claimed Saudi-led coalition against terrorism is formally being launched with a meeting of the defence ministers of member states being held in Riyadh on Sunday. The inaugural meeting of the Ministers of Defence Council will be held under the theme of 'Allied Against Terrorism,' according to a press statement although Saudi kingdom has itself launched aggression on Yemen and using terrorists against legitimate Syrian regime.
The so-called IMCTC's acting secretary general Lt Gen Abdulelah Al-Saleh said: "This meeting marks the official launch of the IMCTC's operations at our centre in Riyadh." The alliance was announced in December 2015. Pakistan was part of the initial list of 34 countries that had agreed to become part of the coalition. Pakistan's former army chief Gen Raheel Sharif joined the alliance as its top commander in April this year.
Core areas that the IMCTC seeks to address have been identified as ideology, communications, counter terrorist financing and military.
"IMCTC encompasses an integrated approach to coordinate and unite on the four key domains of ideology, communications, counterterrorism financing and military, in order to fight all forms of terrorism and extremism and to effectively join other international security and peacekeeping efforts," said Gen Sharif.
Saudi Crown Prince Mohammed bin Salman, who has been the driving force behind this coalition, will inaugurate the defence ministers meeting. Gen Al-Saleh will outline the coalition's strategy, governance, activities and future plans, the statement added.
Saudi Kingdom itself has been accused of nurturing Wahhabi terrorist groups in many countries. The terrorists who perpetrate terrorist attacks in Syria are hosted by Saudi monarchy in Riyadh.